E-commerce firms smarten logistics
Share - WeChat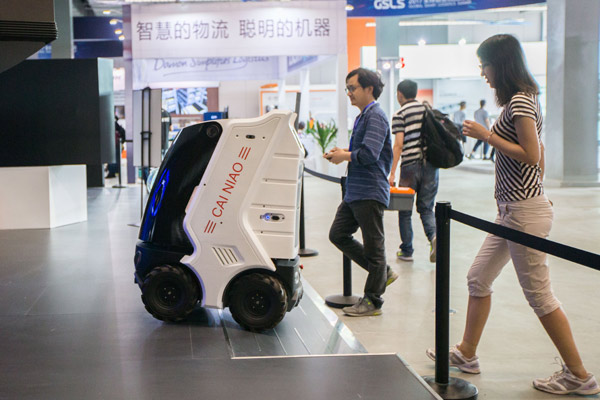 A forum on intelligent logistics, held in Hangzhou in May, attracted both logistics robot manufacturers and general public. Cainiao, the logistics arm of Alibaba, employs robots. [Photo provided to China Daily]
Major Chinese online retailers are increasing efforts to build intelligent logistics systems, by deploying robots and drones to enhance work efficiency.
JD.com Inc, China's second largest e-commerce player, has been at the forefront of this push for adopting innovative automation technologies. It has completed the construction of its first unmanned warehouse.
Located at JD's logistics center in Jiading district, Shanghai, the warehouse spans 40,000 square meters of floor space.
JD said all warehouse operations-receiving goods, storage, packaging and sorting--are fully automatic. Handling capacity is expected to exceed 200,000 orders per day.
In August, JD launched the first unmanned sorting center in Kunshan, Jiangsu province. Again, the whole process, from parcel sorting to loading onto trucks, is fully automatic.
"As e-commerce is growing in China and around the world, robotics and automation will be a necessary solution to meet that explosion in demand," said Wang Zhenhui, CEO of JD Logistics.
"We are investing in this advanced technology, and other automation throughout our supply chain, with an eye on the long term."
During JD's June 18 shopping festival, the firm used unmanned aerial vehicles, or UAVs that are better known as drones, to deliver packages in Xi'an, capital of Northwest China's Shaanxi province.
Now, it plans to build 150 operational sites for drone deliveries to Sichuan province, using robots and automated cars to speed up the process.
Like JD, its competitor Alibaba Group Holding Ltd uses smart-ware in logistics. Alibaba's smart logistics network Cainiao Network Technology Co Ltd launched a flagship intelligent warehouse in Huiyang, Guangdong province, in October. It is served by a fleet of more than a hundred mobile robots.
The robots are responsible for moving goods in the warehouse. They are activated once a shopper places an order on Alibaba's B2C shopping site Tmall. The robot sends the shelf containing the parcel to a warehouse clerk, who will sort through the parcels and later ship the designated order to the customer.
In a traditional warehouse, a clerk usually sorts through about 1,000 products, and 60,000 to 70,000 steps are required per day to walk around the warehouse.
Now, thanks to the mobile robots, the clerk can sift through 3,000 products in the same shift, while walking only 2,000 to 3,000 steps a day.
Suning Commerce Group Co Ltd, another prominent e-commerce player, also said it would launch intelligent retail robots that can recognize the speech and expressions of consumers.
"E-commerce giants are aware of the significance of intelligent logistics," said Lu Zhenwang, CEO of Wanqing Consultancy in Shanghai.
"They have invested hugely in the intelligent logistics sector, on things like robots, unmanned sorting and handling equipment, drones and driverless cars to gain the upper hand in fierce competition."