Treasures from the sea
Share - WeChat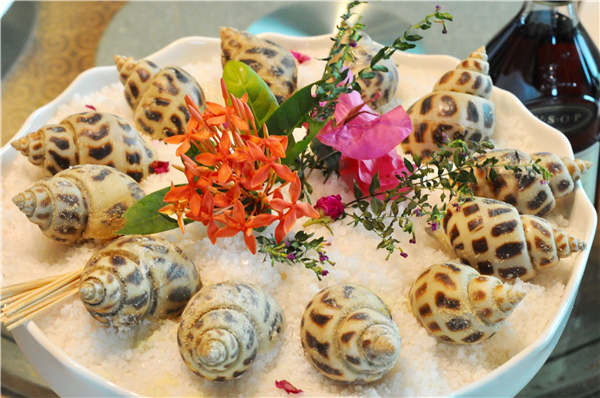 Zhanjiang is famous for its seafood, such as conch sashimi. [Photo provided to China Daily]
Located on an inlet of the South China Sea, the harbor city of Zhanjiang is a bustling hub for the seafood trade
For those who want to enjoy warm weather and delicious food, a trip to Zhanjiang city in Guangdong province - about four hours by flight from Beijing - is a good idea.
Located on an inlet of the South China Sea, the harbor city with a coastline of about 1,500 kilometers is a bustling hub for the seafood trade.
There, the locals often cook food by blanching and boiling to keep the original flavors of ingredients. Also, as it used to be a French concession for 40 years, tourists can see old French architecture in the city.
It's said that one of the best ways to know about a city is to visit its food market.
In Zhanjiang, it's the seafood market that tells you about its deep connection with the sea.
The market boasts all kinds of fresh seafood, ranging from crabs and prawns to shellfish. Vendors there are busy weighing the seafood for customers. Even the air smells like the salty ocean.
To really sample Zhanjiang's seafood, one mustn't miss the peanut worms, which are found in the tidal zones.
They are local delicacies mainly in the Guangdong, Fujian and Hainan provinces and the Guangxi Zhuang autonomous region.
In Zhanjiang, locals like to steam the worms with minced garlic, and use cellophane noodles as the base.
A bowl of peanut worm soup will make your mouth water.
But the ultimate delicacy is peanut worm sashimi dipped in soy sauce and mustard.
It's fresh, delicious and a bit sweet, with a nice texture.
It is the city's clean water that ensures a good environment for the peanut worms.
Another favorite is the oyster.
Most Popular