Geely to launch flying cars after Terrafugia deal
Share - WeChat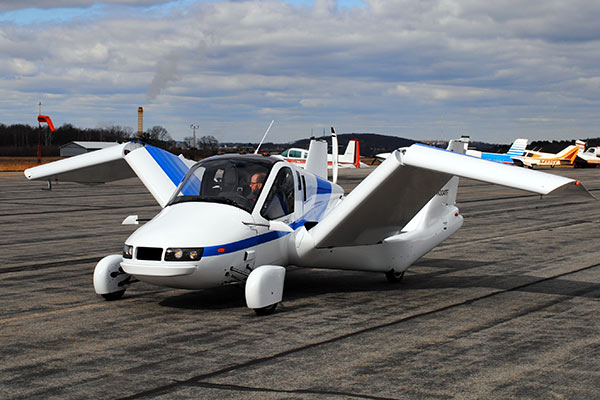 Terrafugia's Transition model can convert from a plane to a car within one minute.[Photo provided to China Daily]
Automotive giant Zhejiang Geely Holding Group said on Monday that it will roll out its first flying car in 2019 in the US after the Chinese company decided to buy Massachusetts-based startup Terrafugia, which is pioneering such vehicles.
Geely said it will acquire all the operations and assets of Terrafugia and has received all the necessary approvals for the deal, including the Committee on Foreign Investment in the United States. It, however, did not disclose any financial details of the deal.
Founded in 2006 by five graduates of the Massachusetts Institute of Technology, Terrafugia launched its first flying car model Transition in 2012, with an estimated base price of $279,000 then. In 2013, the company released the design for its next model TF-X, which is the world's first flying car capable of vertical take-off and landing.
It is expected to be available by 2023.
Geely said it would further invest in the flying car business and create additional jobs for Terrafugia upon the completion of the deal. However, the car will not be available in the Chinese market in the short term due to the country's regulations on low-altitude flying.
Geely's innovation center in Hangzhou will also be used by Terrafugia. In anticipation of the transaction, Terrafugia's team of engineers in the US has been tripled over the past quarter with Geely's support.
Li Shufu, founder and chairman of Geely Group, considers flying cars as the ultimate mobility solution. The group's international operations and track record for innovation will make the flying car a commercial reality, he said.
Terrafugia's newly appointed CEO Chris Jaran said the first priority would be to expand the company's R&D capabilities.
Shenzhen-based technology giant Tencent Holdings has led the $90 million series B financing in the German flying car startup Lilium. Other industry leaders such as Airbus, Toyota, Uber and Google have all stepped into the flying car sector, as it is believed to be the next big thing following autonomous driving.
Yale Zhang, managing director of Shanghai-based consulting firm Automotive Foresight, admitted that such cars will help alleviate traffic jams, but added that they are a little bit far from reality.
"The main problem is technology. They have to run fast but at the same time make it affordable. If they cost as much as $2 million, then they mean nothing to the public. Then there is the legislation," he said.
John Zeng, managing director of LMC Automotive Shanghai, said that such cars might be easier to promote in North America, where there is little control over the sky and has a much smaller population, like Canada.
"But it would be hard to imagine that cars fly at any time in densely populated Chinese cities like Beijing or Shanghai," he said.
"At least in the short term, flying cars will not become something important in Geely's business," he said.
"But it is not surprising that Geely is investing in it. Many carmakers, faced with challenges brought about by electric cars and autonomous driving, are making investments in frontier technologies, as the future is becoming more uncertain. So they make hay when the sun shines," he added.