Sina's Q3 operating profit jumps 231%
Share - WeChat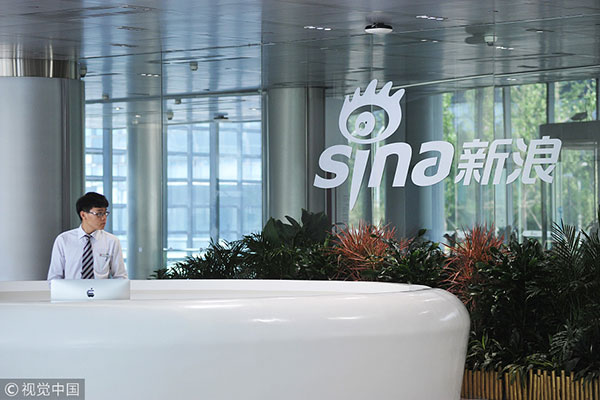 An employee works at Sina's headquarters in Beijing, May 20, 2017. [Photo/VCG]
Sina Corp, the Nasdaq-listed internet company that owns micro-blogging service Sina Weibo, on Tuesday reported record third-quarter revenue and operating profit.
Sina's third-quarter operating profit surged 231 percent from a year ago to $120.3 million, compared with $36.3 million for the same period last year. Net revenue rose to $443.1 million, up 61 percent year-on-year.
"We are very pleased to deliver another strong quarter of financial results with record revenues and operating profit," said Charles Chao, chairman and CEO of Sina.
"Weibo continued its strong momentum with substantial user base expansion and improved user engagement. Leveraging platform effect, Weibo has achieved further operating leverage and a record high level of net income," said Chao.
In September, Weibo's monthly active users, or MAUs, had a net addition of 79 million users year-on-year and reached 376 million, among which 92 percent were mobile users. Daily active users, or DAUs, rose to 165 million, up 33 million year-on-year.
In the three months ended September 30, online advertising revenue rose 56 percent to $364 million, while non-advertising revenue jumped 92 percent to $79.2 million.
Diluted net income per share attributable to Sina for the third quarter was $0.66, compared to $1.90 for the same period last year.