Infant formula maker Mead to feed rural areas
Share - WeChat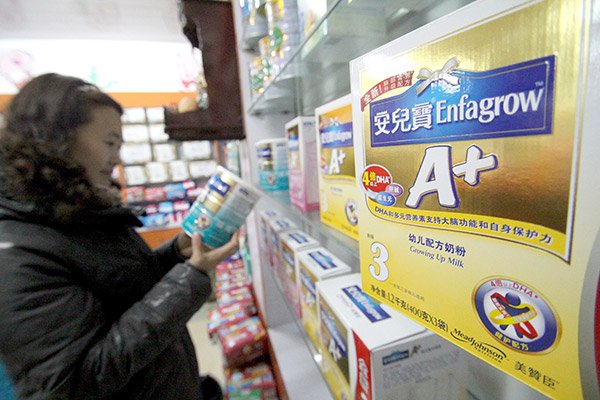 A consumer checks out Mead Johnson Nutrition's milk powder in Linyi, Shandong province. [Photo/for China Daily]
New regulations expected to give established brands opportunities to expand beyond big cities
Infant formula maker Mead Johnson Nutrition, a transnational company, plans to explore expected opportunities to expand into China's third-and fourth-tier cities and villages next year.
New rules from Jan 1 will likely push out players selling regular products, leaving the market wide open for reputable brands that are mostly present only in big cities.
Infant formula makers operating in China need to register their formulas by Dec 31. Without registration, they can no longer sell from Jan 1. According to the new guidance on registration of infant formulas released by the China Food and Drug Administration last year, companies have to meet specified standards for category and quality of their ingredients to get registered.
Enda Ryan, CEO of Mead Johnson Nutrition Greater China, said the company would strive to introduce its products in less-developed cities where new regulations will likely eject substandard products from the market.
He said about 50 percent of the infant formula brands may be removed from the Chinese market after the implementation of the new system. So, the company expects a growth rate higher than the industry's compound annual growth rate of 22.6 percent.
Changjiang Securities data showed about 70 percent of infant and children product shops are located in third-and fourth-tier cities, where little known players are known to sell ordinary or substandard products.
Such firms are likely to fail to get registered. So, next year, established brands may seek to replace them in markets whose collective sales may exceed 15 billion yuan ($2.27 billion), it said.
Song Kungang, honorary president of the China Dairy Industry Association, said there will be fierce competition among big milk producers when small and medium-sized brands vacate their current market strongholds.
More than 420 formulas have been approved by Oct 20, according to the CFDA website.
Domestic brands Yili and Mengniu are among those that have been approved, while foreign ones included Abbott, Wyeth and Mead Johnson Nutrition, according to the website.
The information spurred players to make fresh efforts to expand their market share.
Liu Senmiao, vice-president of Junlebao Dairy Co Ltd, a Chinese milk powder company, said his phone number became a hotline of sorts for distributors after one of the company's brands, Lepur, appeared on the approved list.
Lepur sales surged four times in one month, he said.
Ma Fuxiang, deputy director of the department of special food registration of the CFDA, said at a symposium held by Xinhua News Agency in September that about 1,000 formulas would get registered before the deadline of Dec 31.
"There are three principles that govern inspection of formulas-necessary nutrients must be added; optional nutrients need to be marked clearly; and dangerous ingredients, including additives, are banned," he said.
Zhu Guogang, deputy general manager of domestic milk powder supplier Yashili Group, said companies used to compete in terms of product prices and marketing strategies. Now, however, their focus is on safety and innovation of products.
Gu Lei, vice-president of Mead Johnson Nutrition Greater China, said: "Products with high quality will win recognition and popularity. The newborns will benefit the most."
According to market researcher Euromonitor International, China's baby formula market is estimated to rise to 133.7 billion yuan by 2020, led by foreign brands such as Mead Johnson Nutrition, Nestle, Beingmate and Danone.
Mead Johnson Nutrition boasts a 12-percent market share in the milk powder segment in Asia, following Nestle, it said.
Mead Johnson Nutrition's revenue reached $3.74 billion last year, with half of it coming from Asia, according to its 2016 financial report.
Ryan of Mead Johnson Nutrition said China has become the most vibrant market in the world. At the same time, it is also the most fiercely competitive market.
So, the company will focus on the development of innovative products, provision of customized products for new mothers as well as expansion of sales channels through supermarkets, maternal and infant shops, and e-commerce, he said.