Potato production star Victor Otazu
Share - WeChat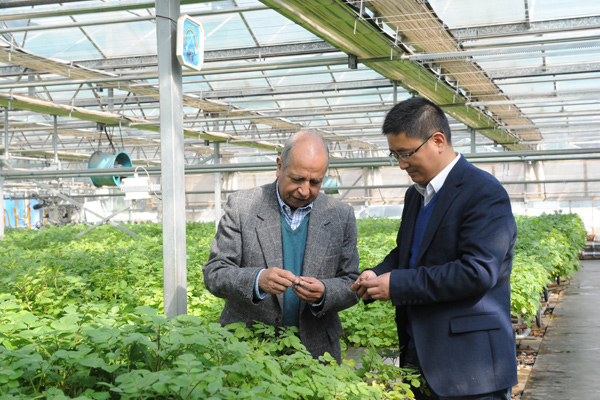 Otazu visits a seed base for potato in Qinghai. [Photo provided to China Daily]
Otazu says he felt that Qinghai could become an important seed producer.
He gave a few suggestions to the Qinghai institute based on his observations and was surprised to see his Chinese partners taking them seriously. Soon some changes were made to the institute's operation, such as cultivation plots, to improve production efficiency.
His visits are usually short and come with tight schedules.
Besides delivering presentations on technical issues and exchanging ideas with Chinese researchers, he also visits the seed bases of the institute in Xining and other parts of the province.
This year, he has visited China twice, staying for about a month each. He had the time to even visit farmers in Qinghai to check if there farm produce had any abnormalities.
"I try to get the best of my time here, so that Qinghai can get something out of my experience in potatoes. That's the objective of my visits," Otazu says.
Otazu has also helped the Qinghai institute share some resources of the International Potato Center in breeding and disease prevention in the past years.
The cooperation has allowed the Qinghai institute to make strides in potato breeding-the efficiency has increased 10 times compared with a decade ago. Now Qinghai is among the main seed producers in China and has sold seed potatoes to more than a dozen other provinces in the country.
The Qingshu-9 type of potato, which was bred in Qinghai, is now the most widely grown variety in China. By 2016, it had been grown across 1 million hectares and increased net income for farmers by 2.81 billion yuan ($42 million).
"He gave us advice that helped solve many technical problems," says Wang Jian, deputy director of the Qinghai institute.
Otazu is a "friendly and sincere" person, and gets along well with the Chinese researchers. They manage to communicate with each other despite a language barrier, according to Wang.
In Otazu's opinion, the cooperation has been useful for both sides.
"We appreciate this interchange-not only my visit here but also the technical staff from Qinghai to Peru," he says.
Otazu says potato production is very important today, especially in some developing countries in Africa, where potatoes, as a relatively new crop, are not only used as food but also important income sources for local farmers.
He believes Peru, as the native place of potatoes and with a rich gene pool, can make contributions to the world through cooperation with other countries, including China.
Thanks to his contribution to potato research and production in Qinghai, he was honored with the Friendship Award in October by the Chinese government.
The award is given to foreigners who have made important contribution to China's social and economic development, and in his case, to China's agricultural development.
Although he has retired, his collaboration with China continues, and now he can spend longer time in Qinghai for more programs, Otazu says.
China is the largest potato producer in the world.
Contact the writer at liuxiangrui@chinadaily.com.cn
Most Popular