News
Changsha boosts food testing service
(chinadaily.com.cn)
Updated: 2017-10-18
Changsha county, in Central China's Hunan province, added 10 more fast testing rooms, pointing directly to the root cause of the food safety problems, local media reported on Oct 16.
Those fast testing rooms are equipped with multiple testing machines enabling technicians to detect items in a few minutes including food adulteration and effect of oxidation resisting.
"The test results come out in around 15 minutes," said Peng Yibin, an inspector at Xianglong supervision center. "The testing time depends on the items. It takes only 30 seconds to test out the age of rice, but much longer for wheat flour and liquor."
There are 22 professional testers, responsible for fast testing, equipment maintenance and other technical services, through the government procurement.
"In addition to previous items, the 10 new testing facilities are also capable of testing foods, health care products and cosmetics," introduced Wu Yiqing, deputy director of Changsha county food testing center.
"Technicians will also join in the future inspection and supervision work, and take on spot samples for testing, in a bid to improve local food safety," Wu added.
In recent years, Changsha county food and drug administration has strengthened efforts to ensure local food security and safety, and built a food safety monitoring network featuring a comprehensive testing center and dozens of testing rooms, which has taken its initial shape.
It plans to settle down 13 more fast testing rooms in the county's supermarkets and agricultural markets to ensure food security, on top of the current 54 distributed in 10 supervision centers.
In the first nine months this year, previous 44 fast testing rooms primarily focused on testing meat, agricultural and aquatic products, having carried out 72,570 tests on random food checks and completed 2,926 quantitative tests, 69,644 qualitative tests, recording a passing percentage of 99.95.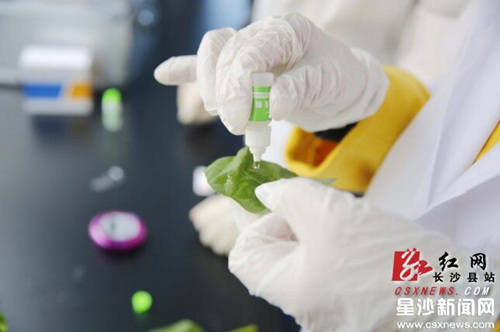 An inspector drips a drop on a sample leave to test the chemicals contained in a fast testing room, Changsha county. [Photo by Zhang Di/csxnew.com]
In recent years, the local government has sought to revive the region's long tradition in porcelain making and boost local industry with the cultural influence of ancient Tongguan kilns, which have a history of 1,200 years.
Contact Us
Tel: +86(0731)-8401-8486
Add: No.19, Kaiyuan Rd, Xingsha, Changsha county