E-commerce going green as carton price skyrockets
Share - WeChat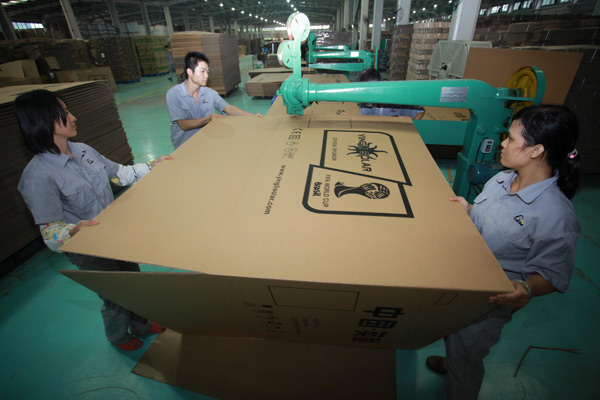 Workers at the production line of a paper-box making company in Haikou, Hainan province. [Photo provided to China Daily]
Major e-commerce giants have increased efforts to recycle increasingly expensive cartons and promote the use of sustainable, greener packaging materials.
Industry statistics showed the price of raw paper has risen to 5,000 yuan ($754) per metric ton-which increased by nearly 70 percent within the year-and put great pressure on carton manufacturers as well as caused carton shortage throughout the country.
The rise in the price of paper lies in the shrinkage of supply, including the shutdown of small paper mills and the country's curbs on solid waste imports to reduce environmental pollution, experts said, adding that paper manufacturers have to increase prices to transfer the rising costs.
The Ministry of Environmental Protection said in July that by the end of 2017, the country will ban the imports of 24 types of solid waste, including waste plastics, unsorted scrap paper, discarded textiles and vanadium slag.
Cainiao Network Technology Co Ltd, the smart logistics network of e-commerce giant Alibaba Group Holding Ltd, is putting more efforts into carton recycling to deal with the rise in carton costs.
Cainiao said it will carry out carton recycling in several key cities including Beijing, Shanghai, Guangzhou, Shenzhen and Hangzhou during the shopping festival on Nov 11 organized.
By cooperating with carton manufacturers, Cainiao will reprocess the cartons left behind by consumers and reproduce packaging boxes that are used in the express delivery industry, in order to save a large amount of natural resources, said company Vice-President Shi Miao.
In June 2016, Cainiao launched its first "Green Action" with a clear goal, which is equivalent to planting 36 million trees, reducing carbon emissions by 3.62 million tons and replacing 50 percent of its express packaging with full-biodegradation environmental-friendly materials by 2020.
And in March, Cainiao Green Alliance Charity Fund, which was jointly established by China Environmental Protection Foundation, Alibaba Foundation, Cainiao Network and co-funded by several logistics enterprises, planned an investment of a total 300 million yuan in green packaging, recycling, delivery and intelligent processing.
According to the National Bureau of Statistics, the price of corrugated paper, which was used to manufacture packing boxes reached 4,748 yuan each ton, hitting the highest level this year. The continuous rise of carton costs will have a serious influence on downstream enterprises.
More than 20 carton manufacturers across the country have raised their price by 100 to 500 yuan per ton since Sept 15.
"This round of price rise in paper industry has an impact on e-commerce platforms, but the degree may differentiate depending on the scale of these platforms," said a manager, who is in charge of storage and logistics at Mia.com, an infant care online retailer.
He said for some large e-commerce players, which have close cooperation with suppliers, the increase of costs may not be obvious, but he expects that small ones will witness a sharp jump in costs.
Mia has long-term carton suppliers, so the price rise is acceptable and the influence is very limited for them, he added.
Online shopping giant JD.com Inc, which offers nine major brands including Lego, Nestle and P&G, announced in June the launch of the Green Stream Initiative to promote the use of sustainable, greener packaging materials throughout the supply chain.
By 2020, JD expects to reduce the number of boxes used throughout the supply chain by 10 billion-the total number of all boxes used in China in all of 2015.
Li Jiayue contributed to this story.