European football needs transfer window compulsory for all leagues, says Watzke
Share - WeChat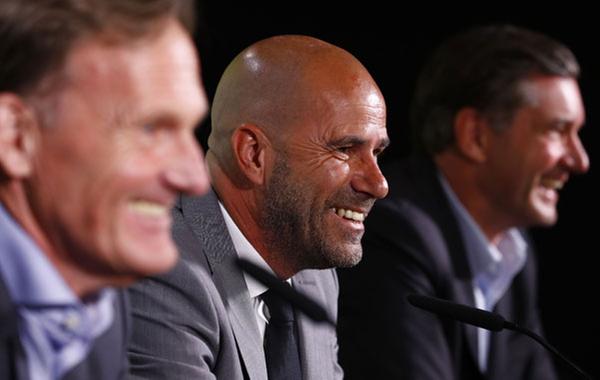 Dutch soccer coach Peter Bosz smiles next to German soccer cup winner Borussia Dortmund chairman Hans-Joachim Watzke and sports director Michael Zorc as he is presented to the media as new coach of the team, in Dortmund, Germany June 6, 2017. [Photo/Agencies]
BERLIN - Borussia Dortmund CEO Hans-Joachim Watzke has called for a valid transfer window compulsory for all European leagues as "that's one of the main tasks for European football clubs shortly."
Though the 55th Bundesliga season is already on its way since mid-August, transfers in Germany are still possible until the end of the month. The 2012 German champion Borussia is about to lose one of its key players as Ousmane Dembele is on his way to join the Spanish side FC Barcelona for up to 147 million euro.
The 20-year-old French is supposed to replace Brazilian striker Neymar Junior who joined Paris St Germain for 222 million euro.
Other European leagues, the Italian or Spanish for instance, have different schedules.
"It might be entertaining for the media - but, it isn't entertaining for the people. At a certain point fans want to know, and need to know, what their team looks like for the new season," the 58-year-old Watzke emphasized.
"We must secure that coaches, fans, and clubs are safe concerning their squad," Watzke said, hoping the transfer-window to close before season kick-off. "Everyone must be aware that clubs can't take this burden for much longer."
Within days season goals and team quality would change. The coaches, having done a lot of preparation work in the pre-season period, are forced to start all over again. That, Watzke stressed, can't be for the sake of football and high quality in sports.
Watzke criticized the financial fair play law, which obligates clubs not to spend more money as they gain through transfers and other business activities. "The financial fair play law seems to be a suggestion more than a law," Watzke stressed.
Watzke said, Barcelona must have been surprised by the Paris bid as the club did not expect to get an offer like that. The Spanish side tried to protect its team squad and a player like Neymar by a 222 million euro demand. "They obviously could not imagine someone to pay that crazy sum," he stressed, "otherwise they would have asked for 500 million."
Barcelona rival Real Madrid was bright enough, to announce 700 million for midfielder Isco he assumed.
Watzke urged the German Bundesliga not to follow the example of the English Premier League as the latter carried out its cup draw in Asia. There would be no doubt that two markets, the one in China and the other in the US, would be a driving factor for world football in the future.
Therefore it is important for all clubs to be around, but only with a pre-season tour and not with a league or cup game. "The Bundesliga has addressed needs of Asian fans with a new timetable for games to broadcast them at a reasonable time in Asia, but we now have reached a border line," Watzke said.