Australia winner of 2017 FIBA Asia Cup
Share - WeChat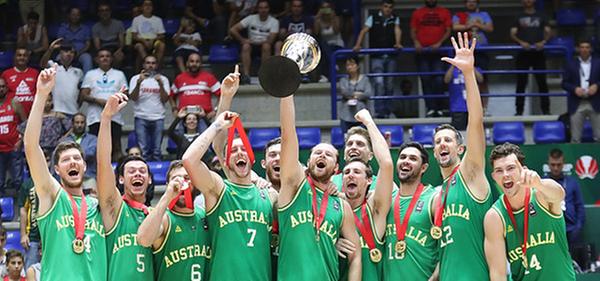 Autralia celebrates their gold medal after defeating Iran during their 2017 FIBA Asia Cup final basketball match, in Zouk Mikael, Beirut, Lebanon, on August 20, 2017. [Photo/VCG]
BEIRUT - Australia was crowned Sunday the FIBA Asia Cup 2017 champions following a 79-56 victory over Iran in the final, while South Korea clinched the third place with a win over New Zealand 80-71.
Australia started the game as they meant to go on, jumping out to a 12-2 lead and convincingly controlling the contest the rest of the way.
Brad Newley had his best game of the tournament to lead Australia, finishing with 18 points, Daniel Kickert had 14, whilst Mitch Creek had another game in double digits with 12 points.
Hamed Haddadi had 18 points to lead Iran, and was joined by Behnam Yakhchali as the only other player in double figures with 10.
Australia kept pressure up in second quarter, pulling away in the lead up to halftime with an 11-1 run as they got fast break opportunities from Iran's turnovers and saw success pulling Haddadi away from the basket.
Australia had a commanding 43-26 lead at the break, behind 8 points from Newley.
It took two and a half minutes for the lead to balloon to 20 in the third period from which point it was relatively plain sailing.
A final surge from Iran saw them get the deficit down to 11 in the final minutes of the third, but it was as close as they would get with Australia dominating the start of the fourth to seal their fate.
In the game for third place that was played earlier, South Korea's Ung Heo had 20 points; Sekeun Oh had 14 points and 8 rebounds, whilst Junyong Choi had his best performance of the tournament with 14 points, 7 rebounds and 7 assists.
New Zealand had 22 points and a couple of thunderous dunks from Finn Delaney, with Reuben Te Rangi adding 18.