Cool Kawhi charms on China trip
Share - WeChat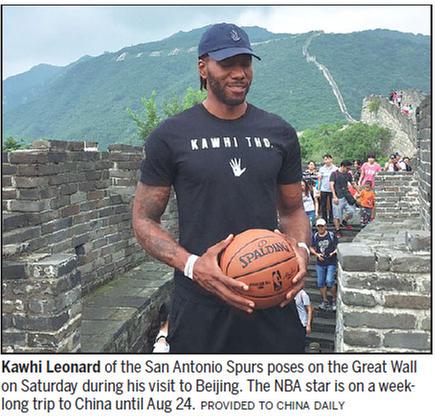 Spurs star lives up to humble reputation on promotional visit
Kawhi Leonard lived up to his reputation as the quiet man of the NBA in Beijing on Friday, but that didn't mean he wasn't enjoying himself.
The San Antonio Spurs star rarely gets too animated - at least off the court. However, as he explained, people shouldn't read too much into it - it's simply his humble demeanor.
"The most interesting thing about me? People think I'm quiet and I don't smile," said Leonard with a chuckle during a roundtable discussion with the media.
"I'm just respecting the basketball game. Just try to be respectful. I'm not gonna be a famous basketball player forever."
Two-time All-Star Leonard is on week-long trip to China - his first visit here - until Aug 24 to promote basketball.
He added: "I'm thrilled to travel to China to help grow the game.
"I am also excited to see the fans' passion and excitement for basketball, and to experience Chinese culture."
Leonard hosted a basketball clinic in Beijing on Sunday for talented migrant schoolkids, and on Saturday also met fans at NBA 5v5, the league's five-on-five tournament for elite players in China.
The 26-year-old will then pay a visit to the NBA Academy Zhejiang in Zhuji, an elite training center which opened last November, to put the young talent there through their paces.
"Just contain yourself and enjoy the game," was Leonard's advice for China's young hoops hopefuls.
"Eating the right food, and making sure your body is prepared to play the games. Just be respectful on the game.
"Just making sure that you also take care of your school work. If you are not fortunate enough to get into the NBA, you still can get a scholarship, a degree."
Leonard will wrap up his trip by making a special appearance at the NBA Playzone in Shanghai, an NBA-themed family entertainment destination.
After that it's back home to focus on the build-up to the new season.
Leonard, who won the 2014 NBA Championship with the Spurs and was named the Finals Most Valuable Player, finished the 2016-17 season with averages of 25.5 points, 5.8 rebounds, 3.5 assists and 1.8 steals per game in the regular season, and 27.7 points, 7.8 rebounds, 4.6 assists and 1.7 steals in the playoffs.
He was subsequently selected to the All-NBA First Team for the second time in his career, as well as earning All-Defensive First Team honors for the third time in three years.
He's hopeful the playoffs beckon again next season.
"I try to be the leader on the court as the best that I can," said Leonard.
"We focus on April, the playoffs. Working to get the championship."
Now, that would really put a smile on his face.