Poverty gave Pacquiao his big push
Share - WeChat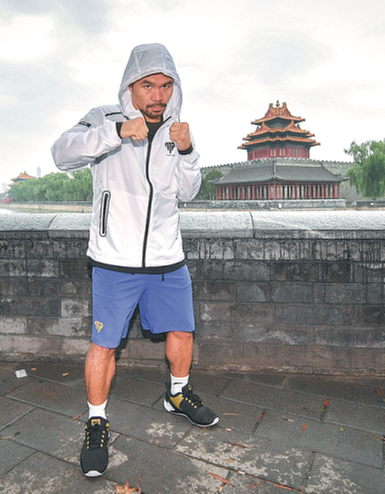 Manny Pacquiao, the legendary 38-year-old Filipino boxer, warms up at Jingshan Park during a promotional visit to Beijing on Saturday. [Photo/China Daily]
Manny Pacquiao cleared $1.50 for his first pro fight - a four-round decision over Edmund Ignacio in 1995.
In 2015, he pocketed a cool $150 million for dropping a 12-round decision to Floyd Mayweather Jr.
In a sport where rags-to-riches storylines are common, the eight-time world champion from the Philippines spoke about conquering the longest odds during a weekend promotional appearance for Chinese sportswear company Anta Sports in Beijing.
"Many of you know me as a legendary boxer, and I'm proud of that," said Pacquiao. "However, that journey was not always easy. When I was younger, I became a fighter because I had to survive. I had nothing. I had no one to depend on except myself. I realized that boxing was something I was good at, and I trained hard so that I could keep myself and my family alive."
Pacquiao was born in 1978, the fourth of six siblings. He completed elementary school after his parents separated, but dropped out of high school and left home at age 14 because his mother could not earn enough money to support the family.
Pacquiao lived on the streets of Manila for a couple of years before turning professional at age 16. He captured his first title - the WBC flyweight crown - in 1998 and went on to become the first boxer to win the lineal world championship in five different weight divisions and the first to win world titles in four of the ring's original eight weight classes.
"When I realized I had the makings of a world-class boxer, I felt motivated to fight for another cause," said Pacquiao.
"I wanted to become the best Filipino fighter in order to leave a legacy for my countrymen, so that the whole world would know that we Filipinos can excel in a sport that doesn't just depend on brute strength, but on strategy and quick thinking."
Beyond boxing, Pacquiao is also known as a politician and basketball coach.
In May 2010, he was elected to the House of Representatives in the 15th Congress of the Philippines, representing the province of Sarangani. He was re-elected in 2013, and in 2016 was voted to a six-year term as senator.
He also serves as head coach of the Mahindra Floodbuster squad in the Philippine Basketball Association.
"As I went around my country, I realized there were so many people who need help, who look up to me for inspiration," he said.
"That was when I took on the bigger fight, the bigger challenge of becoming a public servant. And because of their trust and confidence, I now represent my people's interests as a senator."
Pacquiao's visit to Beijing was seen as a boost for boxing in China in the wake of former WBO flyweight champion and double Olympic gold medalist Zou Shiming's stunning loss to Japan's Sho Kimura in Shanghai last month.
"There is a fighter in each and every one of us," said Pacquiao. "As I share my story, I can only hope that I help you discover that gift, so that you can become that person who will soon inspire others to win their own battles."