Famed jazz club hits a high note in Beijing
Share - WeChat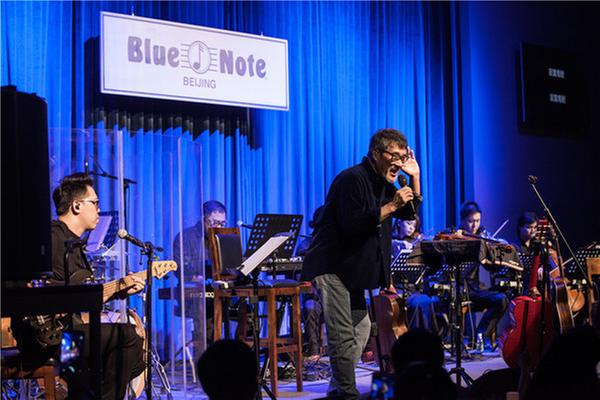 Veteran Taiwan songwriter and record producer Jonathan Lee performed at Blue Note Beijing on July 27. [Photo Provided to China Daily]
More than 200 shows staged at venue in the past year
For music lovers in Beijing, it can seem like they are forever mourning the closure of another live venue, usually due to financial pressure. But one of the most prominent names in jazz bucked that trend last year with the opening of a new venue in the capital.
Blue Note Beijing, which opened on Sept 13, has hosted some of the biggest names in jazz, including Grammy winner bassist Stanley Clarke, who performed at the club last September, and said: "The place is beautiful. This could be the most beautiful Blue Note venue I have ever seen. It has the flavor of the New York Blue Note and embodies the Blue Note tradition."
More than 200 shows have already been staged at Blue Note Beijing, including a show by the legendary jazz pianist, 22-time Grammy winner Chick Corea, who performed at the club's opening on Sept 13, and the club will celebrate its one-year anniversary with jazz luminaries such as saxophonist Ravi Coltrane, Cuban pianist Harold Lopez Nussa and American saxophonist Kamasi Washington.
"I am quite satisfied with what Blue Note Beijing has achieved during the past year," says Tian Tan, the owner of Blue Note Beijing. "It's different from Blue Note clubs in other cities. People, who have come here, get that we have blended New York's famous Blue Note jazz club with Beijing, a place where jazz doesn't have a large audience."
Because of that, he didn't envision Blue Note Beijing being a pure music live venue.
"The place is not just about the music, you can also have great food and drinks" says Tian. "Basically, it's a place in Beijing, where you can enjoy a fun night."
The food offered at Blue Note Beijing caters to international as well as local tastes, and over the past year, the venue has attracted about 40,000 people.
Most Popular