AI startups see record financing in H1
Share - WeChat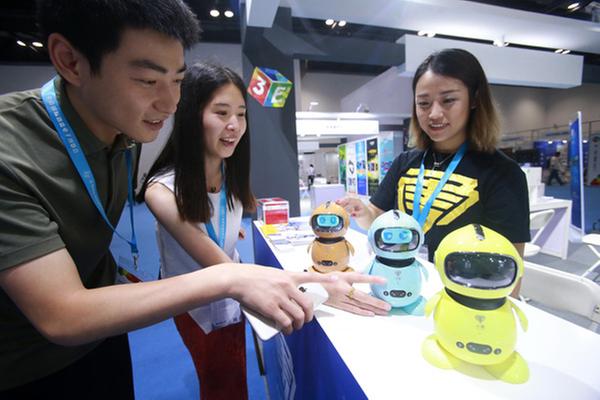 Robots attract visitors at an industry expo in Beijing. CHEN XIAOGEN / FOR CHINA DAILY
China's artificial intelligence-focused startups received record financing of 19.3 billion yuan ($2.87 billion) in the first half of 2017, with the mid and late-stage deals dominating the period, a report said on Wednesday.
It predicted that the industry is very likely to "enter an adjustment period" in the next half year.
According to a report issued by itjuzi.com, a Chinese website dedicated to data on tech investments, the number of deals to AI-enabled startups in the country reached 96 in the first six months. Top verticals for the period include healthcare, automobile, security, finance, logistics and warehouse.
AI in intelligent robotics is the leading category for deals in 2017 so far, which accounts for nearly one-third of total deals. Companies leveraging natural language processing, a subfield of AI, received most capital.
The report comes amid the AI-investment spree nationwide. In July, Chinese government released a national plan aiming to grow its core AI industries to 150 billion yuan by 2020, 400 billion yuan by 2025, and 1 trillion yuan by 2030.
Part of the reason behind the forecast of "adjustment period" lies in the imbalance in cash flows between the well-funded and early-stage companies, said the report citing latest figures.
Almost 60 percent of the capital was invested in the top five companies in terms of funding. By contrast, only 21 percent flowed to AI-related startups in series-A stage and earlier, which are still relatively nascent and account for 77 percent of total deals.
Some businesses in computer vision and image, cloud computing equipment, natural language processing and aided driving are poised for growth. Those focusing their efforts on sensor components, laser radar, and technological platform are still at early stage.