Trump: I just feel at home in China
Share - WeChat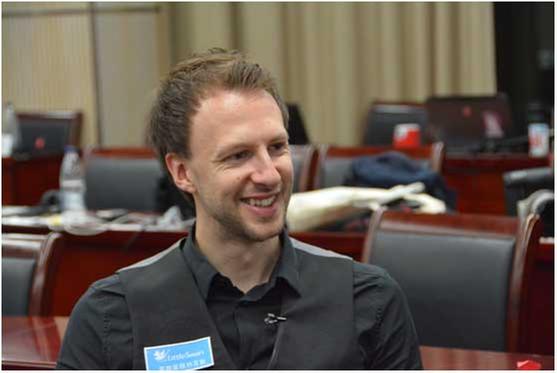 England's Judd Trump speaks to China Daily after his match against Iran at the 2017 Little Swan Snooker World Cup in Wuxi, Jiangsu province on July 5. [Photo provided to chinadaily.com.cn]
In an exclusive interview at the 2017 Little Swan Snooker World Cup in Wuxi, England's top snooker player discusses his unlikely love affair with China.
Snooker players are not usually great travellers. Until recently,the sport was an almost exclusively British affair, and its stars often seem to pine for the days when most tournaments involved a trip to Bangor rather than Bangkok.
But Judd Trump is one glaring exception to this. The world number three has not only embraced the rise of snooker in China, he appears to have formed a special bond with Chinese fans of the sport.
The 27-year-old has once again enjoyed support almost on a par with Chinese stars such as Ding Junhui at this week's Little Swan World Cup in Wuxi, Jiangsu province.
Speaking after his England team's 4-1 victory over Iran, Trump says his special connection with his Chinese fan base started with a Justin Bieber-style haircut.
"From when I was young, I think maybe my style of play and probably the way I looked at the time [was what made me popular in China]," he says.
"My hair was a bit long and it's a bit tragic now looking back, but I think that's the style that China likes … Ever since then, every time I've come here I've had support and they've kind of stuck with me the whole time."
His Chinese fans' feelings are certainly reciprocated. When asked about playing tournaments in China, most snooker players will joke about the long flights or praise the quality of the hotels they are put up in.
But Trump speaks with real passion about thecountry that has almost adopted him as one of its own.
"I feel relaxed here, I feel at home," he enthuses. "The support I get here really helps me and makes me want to come here."
Trump believes that the fantastic reception he gets in China has even helped him win more titles. Three of his seven ranking event wins in his career have been at Chinese events.
"When you get so much support, here more even than back home, then I think it helps you and you just want to win that little bit more," he says. "I guess it spurs me on without me knowing it."