Chinese teams give fans a scare at Snooker World Cup
Share - WeChat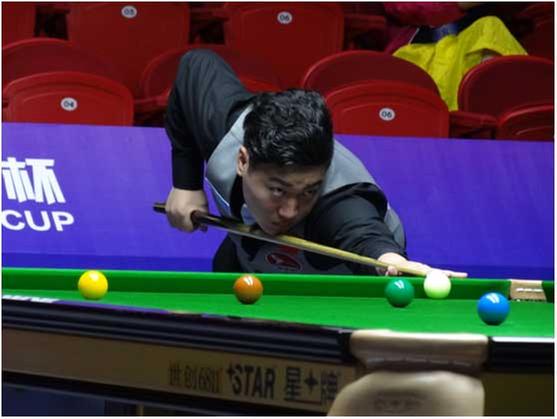 Yan lines up a shot during his match. The 17-year-old's China B survived a scare to qualify for the World Cup quarterfinals on Saturday. [Photo provided to chinadaily.com.cn]
Usually a bubbly, chatty character, Yan's face was a mask of tension as he stepped up to the table.
But the Chinese hotshot held his nerve. After a cagey exchange of safety shots, Yan finally got in among the balls and methodically racked up a break of 66.
There was still a final twist to the action though, as Yan missed a double into the middle pocket rather than play safe to give Thor a final chance.
A fantastic long pot from Thor saw Yan's pallor increase further, but the Malaysian proceeded to miss the black and concede the frame, prompting roars of triumph and relief from the Chinese fans.
"We made more errors than before," said Zhou after the match. "But the final result was to our satisfaction."
"Before the game, we had the same results as Brazil, so we had to win."
After the drama of the afternoon, many fans were probably hoping that China A's evening decider against Hong Kong, China, would produce a more comfortable victory.
If so, they were instantly disappointed, as Hong Kong, China, won the first frame to put Ding and Liang under pressure.