Thompson slam-dunks China tour
Share - WeChat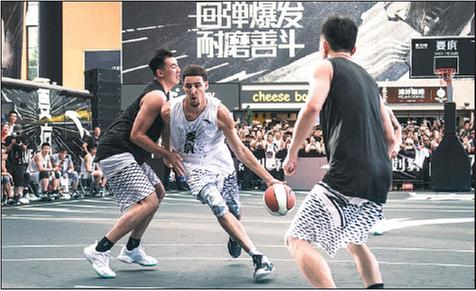 Golden State Warriors superstar Klay Thompson takes on Chinese players during his 'Shock the Game' China tour in Guangzhou, Guangdong province, on July 1. Photos Provided To China Daily
Warriors star proves huge hit to delight of sneaker sponsor Anta
Visiting six cities in nine days, Golden State Warriors star Klay Thompson's recent tour of China proved a huge hit with fans, and provided Chinese sportswear brand Anta with a massive shot in the arm in its battle with Nike.
The NBA All-Star has just signed a 10-year extension with Anta.
That rich deal would propel the 27-year-old shooting guard into the top 10 highest-earning sneaker endorsers in the NBA, according to Nicekicks.com.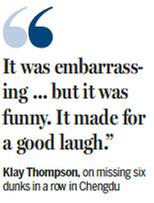 Anta believes he's worth every cent following his standout performances in the Warriors' NBA title-winning run last month and the "Klay-mania" generated by his China tour.
The Fujian-based company has sold more than 400,000 pairs of the second generation of Thompson's signature sneaker, KT2, since it was launched in October 2015.
Thompson, who initially signed with Anta in 2014, is the most searched keyword on Anta's website.
"I want Anta to be very popular in the basketball world, not only in China but also globally," Thompson told China Daily.
"I want Anta to be known as the cool brand for the kids - which I think it's on its way to becoming. With our partnership, I really think we can get there."
Thompson told Nicekicks.com he hopes to become the "Michael Jordan of Anta", and his social media stats show that's not out of reach.
"Shock the Game", the slogan of his promotional tour, had attracted over 78 million reads and 28,000 comments on Sina Weibo by Thursday, while more than 30 million Sina Weibo users watched events on the tour live.