Former Chelsea captain John Terry joins Aston Villa
Share - WeChat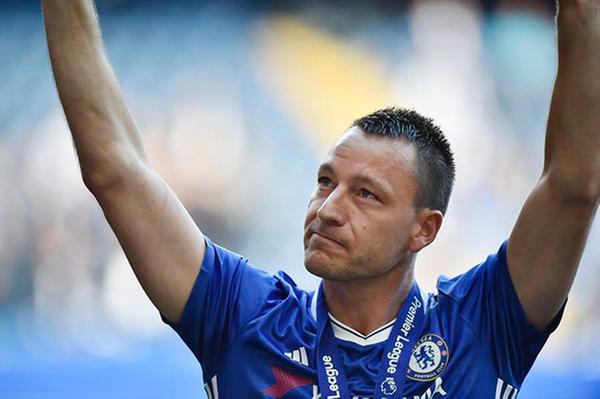 Chelsea's John Terry celebrates after winning the Premier League at the Stamford Bridge on May 21, 2017. [Photo/Agencies]
BIRMINGHAM, England — Rather than retire or play against Chelsea, John Terry decided to join a team that was unlikely to face the Premier League champions.
The former Chelsea captain signed a one-year deal with second-division club Aston Villa on Monday, three days after ending a 22-year association with the London club.
The 36-year-old Terry made more than 700 appearances for Chelsea — most of them as captain. He said his affinity for the club made him turn down offers from other Premier League teams.
"I thank them for their offers. For me it was just the mental side of playing against Chelsea was too much to get over," Terry said at Villa Park. "I had 22 years at the football club, 22 unbelievable years. I'm very proud of that but this is a new chapter in my life and my career.
"I wish Chelsea well next season and will be watching out but my thoughts are 100 percent here and the ambition is to get us back to the Premier League."Villa, which finished 13th in the League Championship last season, is targeting promotion back to the top division after relegation in 2016, and could be in the same division as Chelsea for the 2017-18 campaign.
"That's the ideal situation," Terry said. "If, in a year's time, we're sitting here and Aston Villa are playing in the Premier League then I've done my job and everyone else has done theirs.
"We can cross that bridge, hopefully, when we come to it. First and foremost we've got a big and important year ahead of us."Terry progressed from the youth ranks at Chelsea, making his senior debut in 1998. The only other club he has played for was Nottingham Forest during a six-game loan spell in 2000.
Chelsea announced in April that Terry would be leaving the club at the end of the season but he waited until the end of the season before deciding against retirement.
And after winning his fifth Premier League title and his 15th major trophy with Chelsea, a round of golf with Villa coach Steve Bruce in Portugal helped convince him to continue his career.
"With things going to the end at Chelsea, I put everything to the side, a lot of managers were respectful of that," Terry said. "It was bubbling once the season finished with phone calls, text messages, and I bumped into Steve in Portugal.
"I've got huge respect for him as a player, as a person and as a man. The way he's dealt with me personally and professionally has been great and a key factor in me joining. I'm delighted because I still want to continue playing. I'm 36, that hunger's still there to win and fight week-in, week-out."
AP