French kiss
Share - WeChat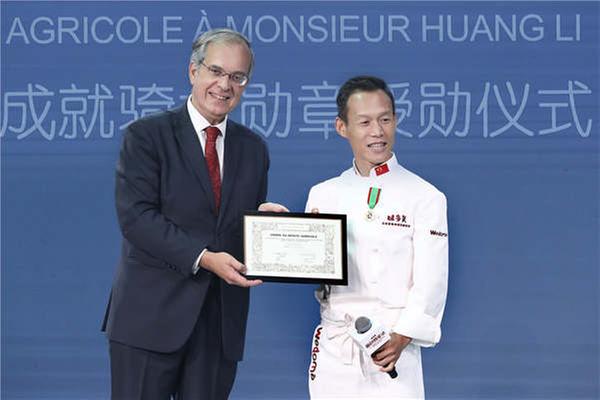 French Ambassador Maurice Gourdault-Montagne presents Huang Li with the Knight of the Order of Agricultural Merit (France) earlier this month.
Upgraded stores with casual seating offer customers a chance to rest and have a quick bite, but Huang acknowledges that even these stores don't have quite the feel of the French cafes he loves when he visits Paris. "There it is a big pleasure to sit outdoors and linger over coffee and pastries," he says. "In Beijing, it's much harder to do that."
In every other way, however, Wedome has proved adept at bringing the French bakery culture to China.
Wedome's base and infrastructure includes a prestigious pool of suppliers who provide cream, fruit jam and yeast from France, cranberries from the United States, cheese from Australia, yellow peaches from South Africa and eggs from China. The imported ingredients give Wedome's products a stamp of both quality and authenticity, Huang says.
"We were the first company to introduce real French-style bread-in China," he says. The first store, which opened at Fuchengmen in Beijing in 1996, featured an open kitchen, and the big windows allowed customers to see how baguettes and other breads and Western-style pastries are made.
"The experience of the bread is very important," Huang says. "We want our customers to see-and smell-the entire process. That makes them more likely to buy, and more satisfied when they do."
Wedome's patina of authenticity has earned national prizes for its baguettes, "gold brick" bread (with cheese filling), French-style mooncakes (with chocolate-cheese filling), natural cream cakes and other goodies.
But such recognition hasn't come only from China.
Most Popular