Beat the heat
Share - WeChat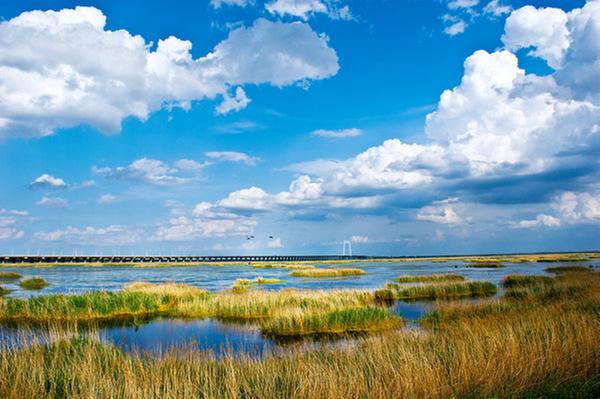 Daqing's wetlands are among the recommended summer itineraries of Heilongjiang province. [Photo provided to China Daily]
Primitive forests fleece the Hinggan Mountains. Waterfowl wander Wudalianchi's reed marshes and mineral springs. Paddies plate the fertile farmlands of Beidahuang.
Indeed, Heilongjiang province promises a cool place to beat the heat. It averages 20 C when summer scorches much of the rest of the country.
While the province is known as a winter wonderland-its capital, Harbin, hosts some of the world's largest snow- and ice-sculpture festivals-Heilongjiang's geographic positioning as China's northernmost swath makes its weather comfortably clement during the hottest months.
"Heilongjiang has special weather, history and culture," says Hou Wei, deputy director of the province's tourism development commission.
"Its ecology is rich. And its environment is pristine."
People come for its border river, volcanoes and proximity to Russia, he says.
The China Meteorological Administration and the China Tourism Academy named Harbin as the most popular domestic summer destination in 2014.
The province's tourism authority staged an annual road show in Beijing in mid-May to display what Heilongjiang has to offer during the season. It revealed 10 products during the event. The themes were forests, wetlands, health, driving, border travel, agritourism, sports, wildlife, music and architecture.
They encompass nature and culture.
Such activities as cross-country races through forests, canoe competitions and hunting have been added to enhance these itineraries.
The Harbin Grand Theater stages over 1,000 music performances during the season.
Driving routes have been developed from Harbin to Mohe-China's northernmost settlement-and to the Lesser Hinggan Mountains and the Wusuli River. And more are in the works, provincial tourism official Zhang Taigong says.
What will reportedly be the world's largest indoor ski resort is slated to open in the capital in June.
The city is also working with a Malaysian company to build a marine-life theme park.
Jiamusi will transform its 100 kilometers of rice paddies into an agritourism corridor.