Holidays on wheels
Share - WeChat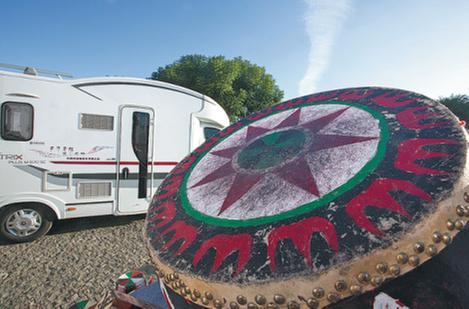 Caravan campsites in suburbs have become popular getaways for families and the outdoorsy crowd. [Photo provided to China Daily]
A total of 11 Chinese government ministries and commissions, including the National Tourism Administration, jointly issued a series of policies and measures to boost caravanning in November.
This has prompted industry players, including Jiang's company, to continue investing in the field.
In a related development, CTS HK has played a key part in hosting the annual All in Caravanning event since 2012.
The event is an expo that brings together caravan and component manufacturers and service providers worldwide in Beijing, and it will take place over June 23-25 this year.
The event has not only created business opportunities but also popularized the caravanning culture in China.
"There were not a lot of visitors at the first expo, and some who came out of curiosity had not even seen caravans," says Jiang.
But the number of visitors has been growing ever since, and audiences are increasingly knowledgeable. "Now they ask about oil consumption and refitting," says Jiang.
Last year's event saw the number of visitors doubling over the previous year, according to Jiang.
And many of them have traveled to the United States, New Zealand, Germany on the wheels, she adds.
For Zeng, sharing his caravanning experiences is also part of the fun.
He has written an online travelogue that has received more than 8 million views.
For the future, Zeng is throwing his hat in the ring to be a caravanning promotion ambassador.
"I'd like to share my travel experiences with more people and help them better understand caravans," he says.
Most Popular