ZMJ moves to high-end production
Share - WeChat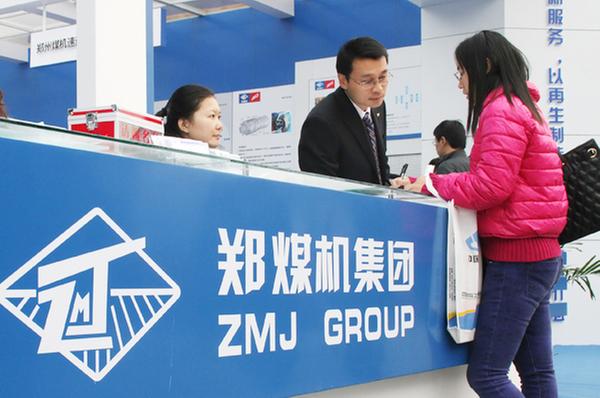 A booth of Zhengzhou Coal Mining Machinery Group at an exhibition in Beijing. CHINA DAILY
Group has made acquisitions that catapulted it into auto parts sector
Zhengzhou Coal Mining Machinery Group Co Ltd, the China-based company mainly engaged in the manufacture and distribution of coal mining integrated equipment, said it would continue its move into high-end and intelligent manufacturing, amid China's efforts to implement the Made in China 2025 plan.
The company, also known as ZMJ, said it had decided to expand into automobile parts, with lofty ambitions to be a major player in the sector.
"After a great deal of market research, our sights are set on the auto industry, because we have encountered ceilings in coal mining machinery," said Jiao Chengyao, chairman of the Henan-based group.
Last December the group, which is listed on the Shanghai and Hong Kong stock exchanges, acquired six auto parts companies from ASIMCO Technologies, one of the leading auto components groups in China, for 2.2 billion yuan ($319 million).
The move marked the company's first foray into the sector. But the company also hit the headlines because of a subsequent major foray involving Robert Bosch GmbH, one of the world's biggest technology and auto suppliers.
On May 2, ZMJ teamed up with private equity firm, Hong Kong-based China Renaissance Capital Investment, to buy Robert Bosch Starter Motors Generators Holding GmbH (SG) from the German group for $595 million.
Bosch's former starter and generator business has operations in automobile starters, generators, energy recovery systems and other related businesses including R&D, production and sales distribution.
"What we want most from this purchase is the research and development team of 700 people and more than 1,000 patented technologies," Jiao said.
Simon Li at AnJie Law Firm, which focuses on cross-border mergers and acquisitions, said that the Made in China 2025 strategy encouraged Chinese companies to go in for high-end manufacturing.
He said the acquisition of international groups was one of the fast and effective ways for them to obtain advanced technologies and get to know foreign markets.
The purchase would result in a win-win situation both for Bosch and ZMJ, according to Jiao.
For Bosch, the move continues the manufacturing giant's shift of its auto parts business from combustion engine technologies towards zero-emission vehicles.
Bosch has decided to spin off its SG part since 2015, and entrusted the world's leading investment bank, Morgen Stanley, as its financial adviser to look for buyers.
"China's huge market will mean a bright future for SG's development," Jiao said.
One of SG's main products is a start-stop motor, whose main function is environmental protection and energy saving. "Up until now fewer than 10 percent of autos have installed start-stop motors in China, but by 2020 that will have risen to about 60 percent," he said.
"I'm looking forward to working together with the advanced management team of SG. I hope SG can continue to consolidate its leading position in the auto parts sector by expanding new business in the fast-developing market."
AnJie Law Firm's Simon Li, advised ZMJ to respect the prevailing corporate culture and management abilities at SG, at the same time paying attention to employees' needs, to ensure continued smooth operations.
For ZMJ, Bosch's production, management and R&D experience in the motor and generator industries is seen as complementing its existing auto parts production line.
The acquisition will also help ZMJ expand its international businesses, building on SG's 16 operational bases in 14 countries including Germany, China, Brazil and the United States.
In recent years, ZMJ said it had taken great strides to introduce advanced manufacturing equipment to international markets, featuring high-quality products and first-class equipment.
"No matter what the machinery and systems that are involved, fundamental standards depend on whether a company is dynamic and competitive, which remains key for high-end technology," Jiao said.
Qi Xin contributed to the story.