Nadal beats Djokovic to reach 8th Madrid final
Share - WeChat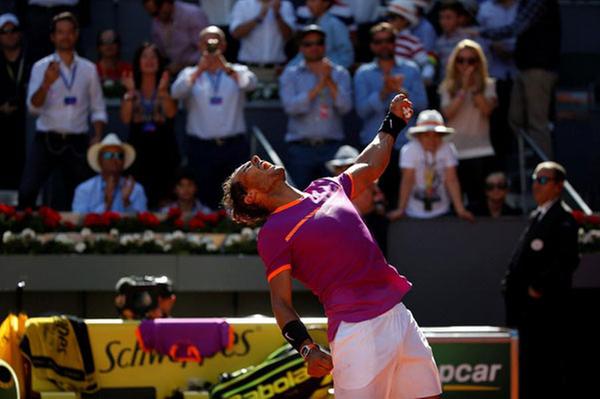 Spanish number one Rafael Nadal celebrates at the end of the match after defeating number two seed, Novak Djokovic, 6-2, 6-4 in their semifinal, on May 13, 2017. [Photo/Agencies]
MADRID - Spanish number one Rafael Nadal qualified for the final of the Mutua Madrid Open on Saturday after defeating number two seed, Novak Djokovic, 6-2, 6-4 in their semifinal.
Djokovic went into the game fresher than the Spaniard after Kei Nishikori's wrist injury game him a bye in the quarter-final, but perhaps a day without competition effected his rhythm as he struggled to come with Nadal, who claimed the first set with few problems.
Nadal was made to work harder in front of a partisan crowd in the second set as the reigning champion dug deep to defend his title with pride. The Serb successfully defended two match points in the final match and even had a match-point before Nadal claimed the match and ended a run of seven successive defeats to Djokovic to set up his eighth final in Madrid.
"It was time for me to win, it has been a long time before I even won a set against Djokovic," said Nadal after his victory.
"It was a game where I had to play well. I played well in the first set and although I had a few nerves in the second, that was because I have not beaten him for so long," he commented.
"I know Novak has made some changes in his coaching staff and I am sure he is a rival who is going to battle for all of the major titles in the future," added Nadal who will now face either Pablo Cuevas or Domenic Thiem in Sunday's final.