The fisherman who got hooked on running
Share - WeChat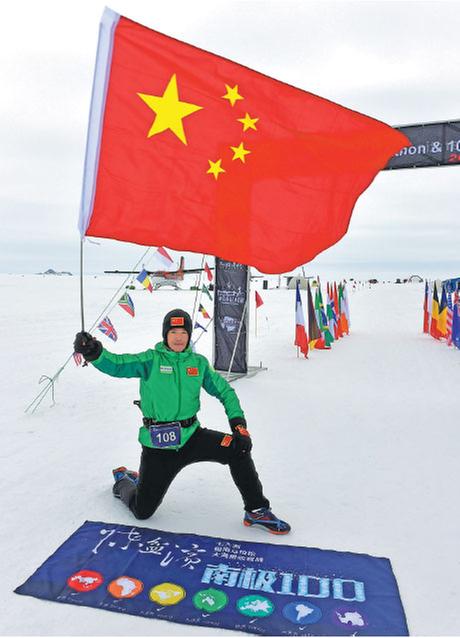 Chen Penbin celebrates completing the 100k ultramarathon in Antarctica in December 2014, becoming the first Chinese person to have run ultramarathons on all seven continents. Xinhua
Push-up contest lit competitive spark for ultramarathoner
Born on a small island in southern China's Zhejiang province, Chen Penbin was resigned to fishing for a living and rarely setting foot on the mainland - just like his father and grandfather before him.
Now 39, the man dubbed 'China's Forrest Gump' is an ultramarathon icon and has become a national celebrity for competing on all seven continents in his pursuit of endurance excellence.
"I was like a frog living at the bottom of a well, only able to see the little patch of sky above and never daring to believe that I would be living a different life other than fishing," Chen said of his childhood.
Determined to ease the burden of a family barely able to make ends meet, Chen went into the fishing business with his father and brother after his graduation from primary school.
That venture might have temporarily narrowed his ambition, but it steeled him with a resolve and discipline that eventually paid dividends in his athletic pursuits.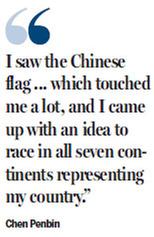 "Since I was very young I knew I needed to stand on my own feet as soon as possible," Chen said.
"My father had to hire another man to help us on the boat. Although I was only 13, I wanted to replace that man and help to cut down expenses for my father. So I would never be lazy. I learned quickly to always give it my all when I was working."
For the next nine years, Chen worked as a fisherman, often facing dangerous situations at sea, until one fateful day in 2000 when a local push-up contest during Spring Festival altered the direction of his life.
"I only trained for about 10 days and I did not know how many push-ups I needed to win, so I just kept pushing myself," Chen recalled.
"When I finished my 438th push-up, a kid pushed me on my shoulder and I fell on the ground. He told me the other contestants were gone for a while. It was at that moment that I realized I had won. Otherwise, I would've done more push-ups."
Chen gave his prize of 600 yuan (about $87) to his father.
More importantly, Chen had tapped into his exceptional stamina, and his competitive instinct had sprung to life.
He began to compete in a wide variety of endurance contests, like triathlons. Odder challenges, like running a marathon wearing leather shoes and racing with a large water-cooler tank on his back, were also on his agenda.
Chen's fame gradually grew nationwide, and after running the 2009 Ultra-Trail du Mont-Blanc event he got the bug for competing abroad.
"I saw the Chinese flag flying from the hotel as soon as I arrived there, which touched me a lot, and I came up with an idea to race in all seven continents, representing my country," he said.
In 2010 he set off on his bold plan to run ultramarathons in Asia, Africa, Europe, North America, South America, Australia and Antarctica.
He fulfilled his goal in just four years, completing the feat by winning a 100k nonstop ultramarathon in Antarctica in 2014.
True to his nature, Chen didn't stop there.
In 2015 he ran 100 marathons in 100 days, starting from the southern Chinese city of Guangzhou and finishing in Beijing.
"Persistence is what has continued to push me forward; I'm really happy that I could achieve this," Chen said after crossing the finish line outside Wukesong Arena.
"Some said I'm a stubborn man by doing this - but that's not a good word to describe a person. I just believe that if you want to do something great, you have to be stubborn, to be persistent.
"By running marathons, I hope more Chinese people can get involved in sports and do sports for their health. I saw people run after me in every marathon in the past 100 days, and I believe I can inspire more."
Last year, to try to attract more participation, Chen invited ordinary runners to form relay teams of 10 and run 100k races alongside him in five different cities. Some 15,000 signed up, but Chen's ambitions go beyond mere numbers.
"There are millions of people running in China. I want to teach them how to run correctly, how to strengthen the body while avoiding injury. And I want to do this through the internet, sharing my experience to as many people as possible," he said.
The world's most populous nation has witnessed a running boom in recent years. In 2011, there were a total of 22 road running events held or authorized by the Chinese Athletics Association. By 2016, the number had mushroomed to 328, with around 2.8 million participants.
"Both the 'seven continents 'and '100 days' accomplishments are my milestones. But it is this running boom that has created my fame and influence," Chen said.
"If I had accomplished these feats 10 years earlier, people might not understand me and may think I am mad.
"If I'd done them 10 years later, I might not be the first Chinese to do them and the milestones would be meaningless."
"So I really need to thank the running boom. And I think it is time for me to do something to help it."
Xinhua