Bangladeshi wins seat for Asian women on FIFA Council
Share - WeChat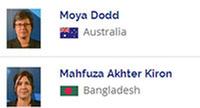 A screen grab from the AFC official website shows Mahfuza Akhter of Bangladesh and Moya Dodd ofd Australia.
MANAMA, Bahrain - Mahfuza Akhter of Bangladesh has beaten Australian rival Moya Dodd for a seat on the FIFA Council reserved for an Asian woman.
Just before the Asian Football Confederation vote Monday, Palestinian and the DPRK candidates withdrew.
Akhter, a member of the AFC executive committee, has a term through 2019 on the FIFA Council after beating Dodd 27-17. Dodd served on FIFA's ruling body from 2013-16.
Three men who were seeking three other Asian seats on the FIFA Council were confirmed by acclamation: Zhang Jian of China, Mariano Varaneta of Philippines and Chung Mong-gyu of South Korea.
Asian Olympic head Sheikh Ahmad Al Fahad Al Sabah withdrew and lost his seat after being accused of bribery by American authorities. The Kuwaiti sheikh denies any wrongdoing.
AP