Tasting Tianjin with its signature foods
Share - WeChat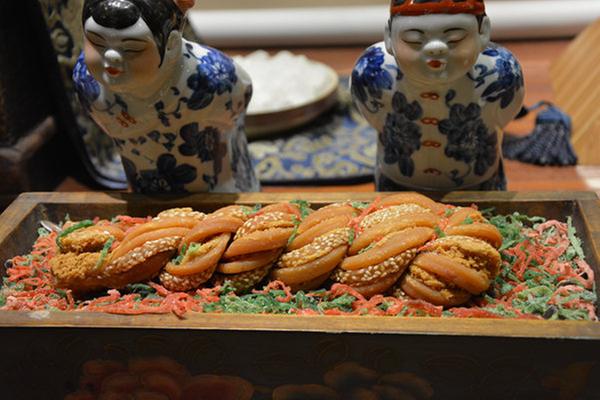 A fried dough twist model is on display at the Guifaxiang Mahua Cultural Museum in Tianjin, April 25, 2017. [Photo by Li Ping/chinadaily.com.cn]
1. Mahua, fried dough twist
When talking about delicacies in Northern China's Tianjin, people may initially think of mahua, or fried dough twist.
Made of flour, sesame, walnut, peanuts and sweet-scented osmanthus, the snack usually comes deep fried. A variety of flavors are available regardless if you prefer to eat sweet or salty.
Out of the variety of shops that sell mahua, the 18th Street shop is the most renowned. Tianjin's Hexi district hosts a museum of mahua, where you can learn about the history of the fried food and get a glimpse of how it is made on the factory line.
If you go:
Guifaxiang Mahua Cultural Museum, 32 Dongting Road, Hexi district, Tianjin. 88812002 ext 8888
Most Popular