Djokovic and Murray try to regain their confidence in Madrid
Share - WeChat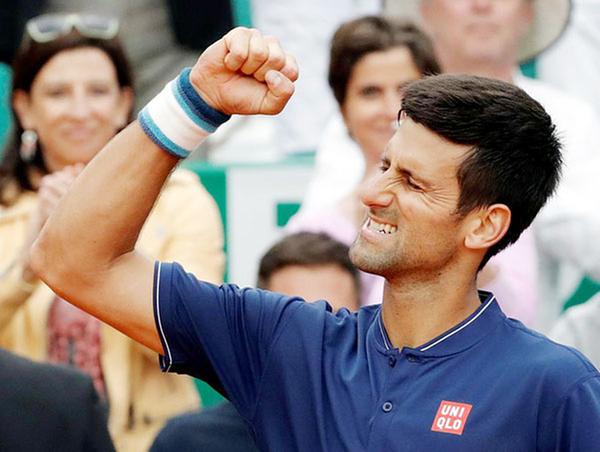 Novak Djokovic of Serbia reacts after defeating Gilles Simon of France at Monte Carlo Masters in Monaco on April 18, 2017. [Photo/Agencies]
MADRID — While Rafael Nadal continues to thrive, Novak Djokovic and Andy Murray are just trying to get back in form.
The top-ranked Murray and the second-ranked Djokovic arrive for the Madrid Open looking to regain their confidence after lackluster starts to their seasons, hoping to find their best game in time for the French Open later this month.
Nadal has won two straight titles on clay, while Murray and Djokovic have struggled on the surface so far.
For defending Madrid Open champion Djokovic, the tournament in Spain will also give him a chance to test his game after parting ways with longtime coach Marian Vajda last week.
"When you start losing more matches, you start questioning your game, yourself, what you're doing wrong so you can rectify that and get better, turn the tables around," Djokovic said Sunday. "I've been very fortunate to experience the upwards direction of my career ever since I've started. This is now a different direction a little bit. In the last six months, I haven't had too many of great results. That's why, you know, I've felt like I needed some changes and I needed to approach things maybe a little bit differently."
Djokovic won in Doha to start the year but never made it past the quarterfinals in the following four tournaments he played. Among his losses was a second-round defeat to Uzbekistan's Denis Istomin in the Australian Open. He lost to Australia's Nick Kyrgios in the quarterfinals in Acapulco and in the Round of 16 in Indian Wells. In his first clay-court tournament of the year, Djokovic was eliminated by David Goffin in the quarterfinals.
"I've played so many years on this level that I'm feeling comfortable on the tennis court regardless of these current changes," he said. "Generally, I mean, I haven't forgotten to hit the tennis ball. I've continued on more or less with the same kind of routine and approach that I've had over the years, you know, with certain changes."Murray, the runner-up to Djokovic in Madrid in 2016, also lost to the Serbian in the final in Doha earlier this year.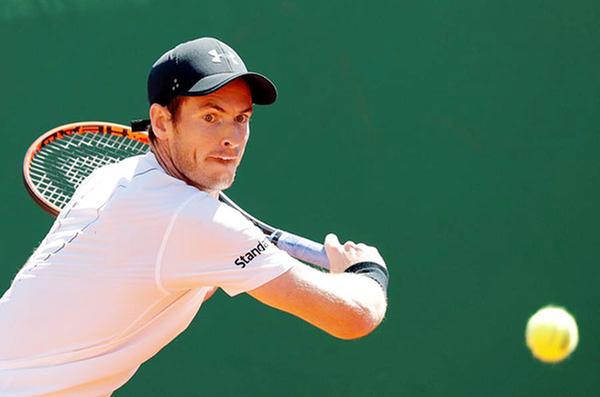 Andy Murray of Britain plays a shot to Albert Ramos-Vinolas of Spain at the Monte Carlo Masters in Monaco on April 20, 2017. [Photo/Agencies]
Murray won in Dubai, but started the clay season trying to regain his form following a right elbow injury that kept him out of the Miami Open and the Davis Cup quarterfinals.
He lost to Albert Ramos-Vinolas in the third round in Monte Carlo after blowing a 4-0 lead in the deciding set, then was eliminated by Dominic Thiem in the semifinals of the Barcelona Open.
"At the beginning of the clay season, it's always a bit trickier for me than the other surfaces just because the movement isn't as natural on this surface for me as it is on the hard courts and the grass courts," Murray said. "It takes me time. I need to work on that each year when I come back onto it a lot before I feel comfortable doing it."He said he remained optimistic for Madrid and the run-up to Roland Garros despite the disappointing result recently.
"Expectations are high. I want to do well the next few weeks," Murray said. "In many ways, it's the most important part of the year. There's a lot of big tournaments that come very quickly, one after the other. I'm motivated. The last couple of years, once I've got that part of my game right, then I feel like clay does actually suit my game well."Murray and Djokovic will likely have to get past a resurging Nadal if they are to win in Madrid.
Nadal won in Monte Carlo and Barcelona, playing well in each tournament. He has won 10 consecutive matches and is 21-1 in his past 22 sets.
Next month, the fifth-ranked Spaniard will try to win a 10th French Open title. The last of his 14 Grand Slams was three years ago at Roland Garros.
AP