Time to admire flowers
Share - WeChat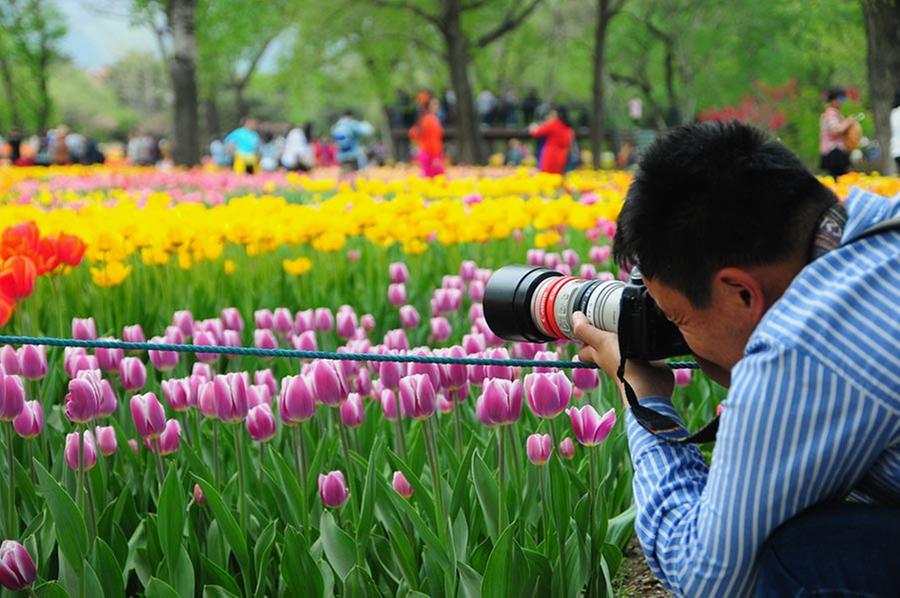 The Beijing Botanical Garden receives its peak number of visitors in spring as flowers, including about 40,000 tulips, are in full bloom in April and May. [Photo by Li Wenming/Xing Yi/China Daily]
The Wofo Temple, which is also called the Temple of the Recumbent Buddha, is located in the north of the park.
The temple was built in the mid-7th century, during the Tang Dynasty, and was believed to have had a sandalwood sculpture of the reclining Buddha.
Over the years, the temple was rebuilt many times and the wooden Buddha was lost.
The present temple was rebuilt during the Qing Dynasty with a Yuan Dynasty (1271-1368) bronze Buddha in the same reclining posture. It is 5.2 meters in length and weighs 2.5 tons.
If you go
Address: Wofosi Road, Xiangshan, Haidian district.
Direction: Subway Line 4, get off at Beigongmen station, then take Bus No 563, get off at Beijing Botanical Garden.
Opening hours:
The park: 6 am-9 pm
The conservatory: 8:30 am-4:30 pm
Wofo Temple: 8:30 am-4:30 pm
Cao Xueqin Memorial: 8:30 am-4:30 pm; Mondays closed
Entrance fee:
The park, 10 yuan; The conservatory, 50 yuan; Wofo Temple, 5 yuan; Cao Xueqin Memorial, free.