Time to admire flowers
Share - WeChat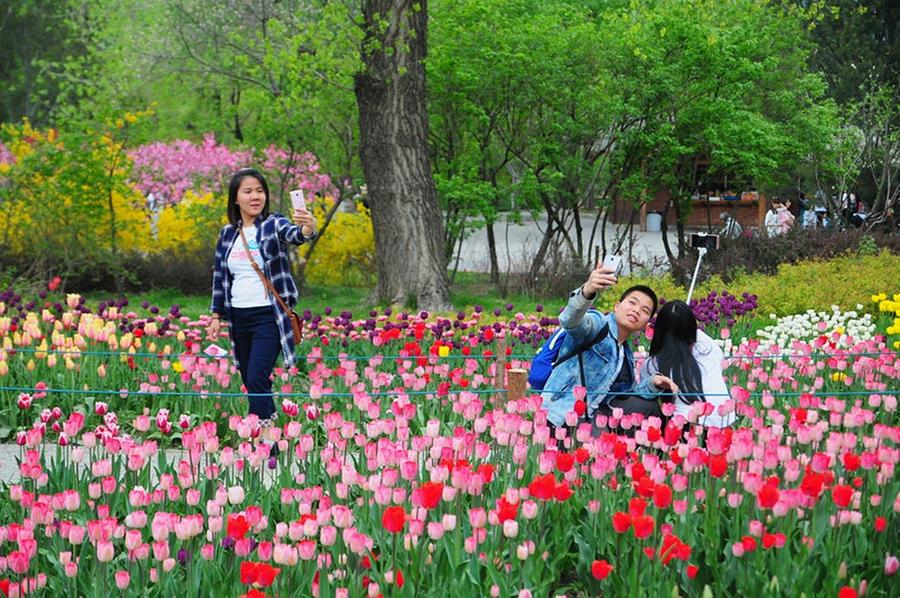 The Beijing Botanical Garden receives its peak number of visitors in spring as flowers, including about 40,000 tulips, are in full bloom in April and May. [Photo by Li Wenming/Xing Yi/China Daily]
The tulips are in so many colors-pink, gold, violet-that I mistake a dark purple one for the mythical black tulip, "La Tulipe Noire".
The flowering of tulips in the garden starts in mid-April, and they can last till mid-May if the weather stays cool.
There is also a small lake in the park. Walk along its west bank, and you reach the peach garden.
The garden is a favorite spot for TV drama fans of Eternal Love, which was screened over January-March and featured many scenes involving peach blossoms.
The peach blossoms reflect the serial's Chinese name-Three Lives Three Worlds, Ten Miles of Peach Blossoms.
Though the visitors will not find 10 miles of peach blossom in the garden, there are plenty of them.
Among the blossoms, young girls, dressed in traditional costume similar to those worn by the actresses in the serial, pose against the trees filled with pink peach flowers.
Liu Jiahui, who has worked in the park for nearly 10 years, says that some late peach blossoms can be seen even in early May. But she adds that now is the best time to see crabapple blossoms and peony.
The botanical garden held an international seminar on crabapple over April 18-19, and around 80 botanists from home and abroad attended the event.
The garden organized a guided peony tour on April 25.