Trucking on, despite obstacles
Share - WeChat Vehicle company boss found there were challenges to be overcome when doing business in Kenya
Armed with plenty of overseas experience and a market survey, Cheng Xiangliang, deputy general manager of AVIC JAC Motors (East Africa) Ltd, came to work in Kenya in October 2015.
There were challenges ahead, however, particularly in dealing with clients face-to-face and in managing the company.
"Before I came to Kenya, I had been working in the light-duty business vehicle department, overseeing the operations of agencies in Pakistan for two years, in Bangladesh for two years and assisting the overseeing of agencies in Sri Lanka for one year," Cheng says. "Although the above market assistant management has been done well, I want to foster my new ability of real business operation."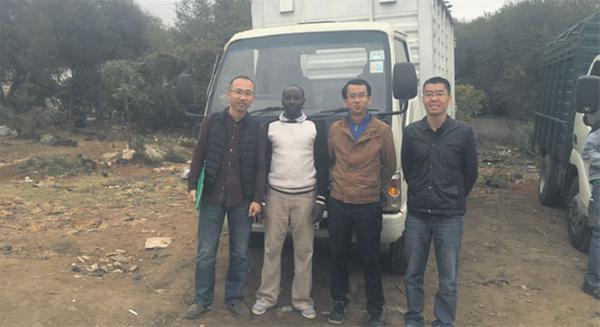 CHENG XIANGLIANG (second from right) and technicians from JAC headquarters pay a visit to a client (second from left) to learn about the conditions of their truck in September 2016. Provided to China Daily
However, this did not stop him from drawing up a blueprint for the company, a joint venture between AVIC Intl Beijing and JAC Motors Group. The company was registered in Kenya in December 2014. It serves as an agent for JAC light-duty trucks in East Africa and deals with vehicle sales, post-sale service, component supplies and vehicle-related service.
In 2015, the company sold 43 trucks in Kenya. As a newcomer to the market, it ranked a distant third after other Chinese truck makers.
Statistics from the Kenya Revenue Authority show that sales of vehicles in Kenya grew by 30 percent in 2015 compared with 2014. In February 2016, the Kenyan government issued a new rule putting a fixed excise tax of 150,000 shillings ($1,454) on all kinds of imports of completed vehicles. Then, between June and July, the government issued a new rule replacing the tax with a 20 percent tax based on the CIF price of a complete vehicle in the 2016 fiscal year.
The move brought down sales by more than 30 percent in 2016, with the contraction of infrastructure construction and rules that put a ceiling on the interest rate of bank loans.
These changes created difficulties for the company, which imports vehicles into Kenya.
"We are confident in the JAC commercial vehicle business in Kenya," says Cheng. "As a top three light duty truck player in the domestic market in China and No 2 Chinese light duty truck exporter, we will make efforts to give a boost in sales by targeting more Chinese consumers."
This is partially because Chinese companies are more familiar with the JAC, which claims to be the second most popular light-duty vehicle in China.
Major clients include engineering companies that need trucks for transporting tools and equipment and private companies that need to transport their products, according to Cheng. The company supplies various under-7-ton light-duty trucks and double cabin pickups.
Meanwhile, it is looking for cooperation with plants to assemble the JAC in the country, which will avoid the complete build-up import's high duty and lower the customer's procurement cost.
"The company hopes to profit from the 7-ton medium-duty truck that could enjoy a favorable market in Kenya this year," says Cheng, adding that the vehicle passed the tests last year and will make its debut this year.
Based on market research, total sales of the truck are estimated at 2,700, out of a total of 12,000 commercial vehicles, including light, medium and heavy-duty trucks, pickups and buses, says Cheng.
He is particularly proud of the company's service team, which wins a great deal of praise from clients.
One afternoon last April, the team got a call from the Pepsi Cola Logistics Co, saying one of its JAC light-duty truck had broken down on the way to a remote sales outlet.
After receiving the call, the service team took tools and components and drove 70 kilometers to do the repair. It took the team three-and-a-half hours to reach the vehicle. After doing checks, they found the problem was due to the truck carrying too much weight, and to poor road conditions.
The components they took did not fit, so they immediately sourced the proper parts from the warehouse and rented a motorcycle to rush them to the site in one-and-a-half-hours. The job was then completed in an hour. To make sure the truck was working properly, the team followed it to its destination, which it reached by midnight.
Such dedication has won the trust of clients and given the company hope for booming business in the future, Cheng says.
panzhongming@chinadaily.com.cn