China's Zhang, Li claim gold at ITTF World Tour Kuwait Open
Share - WeChat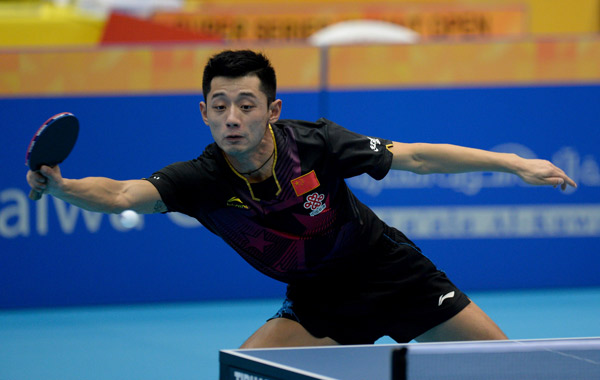 Zhang Jike of China competes during the men's singles final match against Ma Long of China at the Kuwait Open table tennis tournament in Kuwait city, Kuwait, on March 20, 2016. [Photo/Xinhua]
KUWAIT CITY - China's table tennis star Zhang Jike and Li Xiaoxia claimed men's and women's singles titles respecitvely at the 2016 ITTF World Tour Kuwait Open on Sunday.
Zhang, the No 4 seed, has not enjoyed the best of fortunes since he won the men's singles title at the Liebherr 2013 World Championships.
Zhang beat his countrymen Ma Long, the top seed and the 2015 world Champion, in five games (11-9, 11-9, 5-11, 12-10, 11-9).
It is the sixth time that Zhang has won an ITTF World Tour men's singles title. Surprisingly, it is the first time Zhang has won since he beat Ma in the final in Kuwait in 2013.
"I think I won because of my mind-set. As teammates, we know each other very well, so it is normal that we have a close match; even though it was four-one, the four games that I won were all by the minimal two point margin," said Zhang.
Zhang beat Fan Zhendong, another Chinese, in the semi-final round in five games (11-9, 12-10, 3-11, 11-9, 11-9).
In the women's singles final, Li Xiaoxia once again beat Ding Ning to claim the top prize. Li repeated what she did in 2015 in five games (11-6, 2-11, 11-9, 11-9, 11-8).