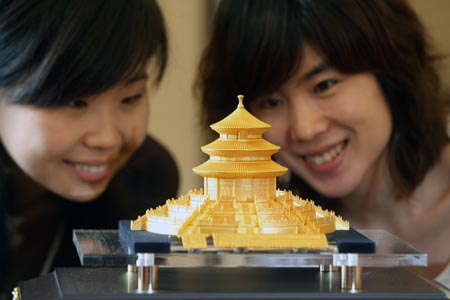 The Temple of Heaven's Hall of Prayer for Good
The Beijing Organizing Committee for the Games of the XXIX Olympiad (BOCOG) announced the release of new officially licensed products for the one-year countdown to the Beijing 2008 Olympic Games on Friday.
The new products will be released in limited quantity, with limits ranging from 2,008 pieces to 10,000 pieces. The most affordable pins will sell for just 18-20 yuan.
Among the array of officially licensed Olympic products on the market, pins and commemorative badges have been much sought after by collectors because of their unique variety in design.
The designs of the new pins were inspired by the cultural elements of different ethnic groups as well as architecture representative of Beijing, including the Temple of Heaven, courtyard houses, the Forbidden City, and the National Stadium.
Aside from the pins, precious metal products have also been very popular. For the Olympic Games one-year countdown, numerous precious metal products will be released, including five pure gold Fuwa, a Ruyi piece of gold and silver, and good luck charms.
For more detailed information about the licensed products, visit www.bejing008.cn or www.sohu.com.