Olympic shooting champion Du Li returned from 'the wilderness' to the newly renovated Beijing Range Hall with a giant smile on her lips.
There's no place like home, and after living and training here since advancing to the national team in 2002, nowhere feels more like home than here.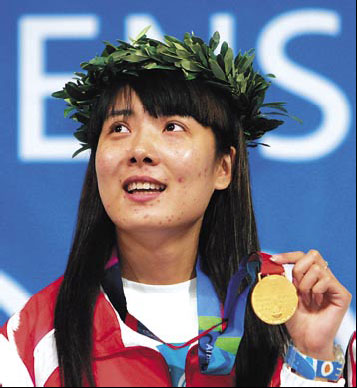 "I have been waiting for this moment for a long time," said a jubilant Du on July 21, stepping into the newly renovated hall that will host the shooting competitions at next year's Olympics, for the first time in three years since leaving to train in Guangzhou.
"Guangzhou is OK but I just feel I have got used to the environment here in Beijing.
"It's really good to be back home."
She was forced to move to a training base in Guangzhou with her national teammates to give workers space to renovate the hall ahead of the 2008 Games.
Now she feels like a homecoming queen.
Du achieved a stunning grand slam in the women's air rifle by winning a string of World Championship, World Cup and Olympic titles.
Now she's looking for more Olympic success, and where better to do so than in the venue which, for her, holds the fondest memories.
The sharpshooter from East China's Shandong Province built herself into an Olympic champion at Beijing Range Hall for the Athens Games in 2004. She scored a near bull's-eye to pip Russian vereran Lioubov Galkina with the last shot in the women's 10m air rifle final to claim the gold medal in Greece.
Du then became a national hero and was named one of the best 10 Chinese athletes of 2004.
Although she had to move to Guangzhou later, Du, the daughter of a retired policeman, continued etching herself into China's shooting history.
She won the air rifle World Cup twice, in 2004 and 2005, and completed her grand slam by winning the 2006 World Championships in Zagreb, Croatia.
To reward her efforts, the International Shooting Sports Federation named her its Shooter of the Year in 2006, a first for a Chinese athlete.
At the Beijing Games, nothing but gold will do.
"To be honest I was touched when I saw how great the venue looked," Du said.
"We also have a wonderful back-up team supporting us here and I'm even more confident about preparing for the Games."
Du and her fellow shooters enjoy a unique advantage as they can stay in the hall full-time before the Games to get fully accustomed to it.
The shooting team is also the only Chinese Olympic team based at the venue.