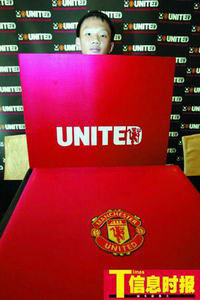 The world's most comprehensive football book, a biography of the Premier League side, Manchester United, has come to China.
Guangzhou-based Information Times newspaper reports that a ceremony marking the launch of the book in Asia was held at a local hotel on Thursday.
The square red-covered book, with a weight of 37 kilograms and 50 centimetres long, has 850 pages enriched with illuminations and more than 400,000 words and more than 2,000 photos.
Karl Fowler, CEO of Kraken Sport & Media UK Limited, the publisher of the book, said they spent two years in compiling the work, inviting famous sport columnists and photographers to write the articles and shoot the pictures.
The book was first launched onto the market last year in Britain.
The edition with the signatures of current Man Utd manager, Alex Ferguson, and the club's great sensation, Bobby Charlton, is priced at 6,000 US dollars, to be issued in a limited 8,950 run.
Another special edition, highlighted with the signatures of the team's legends and the current first string line-up, enjoy the higher price tag of 8,500 US dollars.