Sang Lan raised her arms shoulder high, the gestures growing more animated as she talked about next year's 2008 Olympics.
She carried the torch three years ago for the Athens Games. It could be even more stirring doing it at home next year, part of a journey that will take the Olympic flame to five continents in 130 days.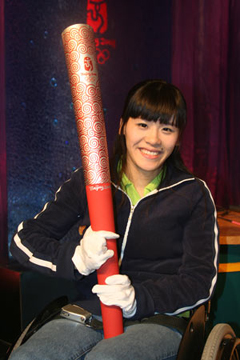 Sang Lan.[File Photo]

"I was so lucky to take part in it before," Sang said, brushing the hair off her forehead. "I would consider it a top honor to do it again."

Similar to her sweeping arm gestures, Sang's use of the word "luck" belies her condition. Once a promising Olympic athlete, she sits in a black wheelchair outside her dormitory at Peking University, paralyzed from her upper chest down after her spine was injured nine years ago.

Attempting a forward vault in a warmup at the Goodwill Games in New York, one of China's strongest young vaulters lost control in midair _ distracted, she said, by a rival coach who approached the landing area. She struck the ground head first.

A national heroine when the accident occurred, Sang remains famous. The 26-year-old has been a TV talk-show host _ "Sang Lan Olympics 2008" was part of Beijing's successful bid committee _ and had a miniseries produced about her life.

She should be one of the most visible faces of next year's Olympics, hoping to get to every venue "to see every event," trying to make up for the Olympic gold she never had a chance to win.

"When I was injured I suddenly realized I had no chance to be in the Olympics," Sang said. "The first thing that came to mind was: 'This is the end. I can never be an Olympic athlete."'

Sang's spirit in the face of her devastating injury made her a celebrity in New York during almost a year of rehabilitation. She and then-mayor Rudolph Giuliani pressed the button that sent the famous ball in Times Square on its ritual descent on New Year's Eve. And Tipper Gore presented her with an award for courage.

"I'll never forget my 10 months in the United States," Sang said, using English occasionally but preferring Chinese. "The Americans showed me their love and made me feel warm. When I felt lonely, they gave me a huge, warm hug. It was massive support for me."

Dr. Kristjan T. Ragnarsson treated Sang at New York's Mount Sinai Medical Center, and he wrote emotionally about her in a recent e-mail. He has been treating spinal cord injuries for 36 years and called Sang among his "most inspiring" patients.

| | | |
| --- | --- | --- |
| 1 | 2 | |