When Wu Weiyang discovered that his bedroom overlooked Beijing's Olympic Stadium, known as the Bird's Nest, he wasted no time in taking photos of its development.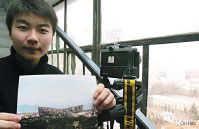 Wu Weiyang shows his photo of 'Bird'Nest'at his apartment building located only two kilometres away from the main Olympic Stadium.

Wu lives in a residential compound in Anzhen Xili in Beijing's Chaoyang District, and the Bird's Nest is just two kilometers to the north of his home.

Since last March, when construction of "Bird's Nest" began to accelerate, Wu has taken 20 pictures of it every week, from which he chooses the three best shots.

So far, Wu has collected more than 100 pictures, which captured the transformation of the stadium from a raw concrete structure to an intricate lattice of steel.

He brought his work to his school, the High School Affiliated to Beijing University of Chemical Technology, and shared it with his friends at the school's photography workshop.

The workshop's instructor, Zhang Xinxue, gave Wu's picture series a romantic name, the "Olympic Steps", and Wu promised to expand his collection to 400 pictures. He will take his last one on August 8, 2008, the opening day of the Games.

"These pictures will record a very special period of time in my life, and they give me a special feeling that I am part of this great Games," Wu said.