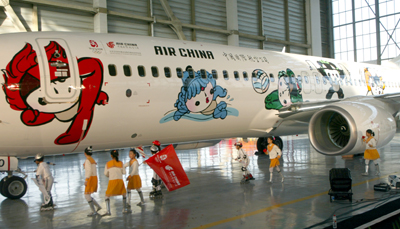 Children are fascinated by the Olympic Fuwa airliner unveiled by Air China in Beijing Monday, November 13, 2006. The company, a partner of the 2008 Beijing Olympic Games, is considering decorating two more aircraft with the Olympic mascots to promote the Games. It adorned three aircraft with the "Beijing 2008" logo last year. Air China has a fleet of 206 planes. [newsphoto]


The Olympic Fuwa airliner will fly as the cross-Taiwan Straits non-stop charter flight during the upcoming Spring Festival holidays, Air China Olympics working group officer Wang Tianyun said Thursday.

Wang confirmed that Air China will begin arranging round-trip flights on the Olympic mascot airplane after it concludes its initial eight-city flight, covering Shanghai, Chengdu, Qingdao and Guangzhou.

But he did not reveal further details concerning the flight schedule, saying that more details would come at the next press conference slated for the middle of next January. Wang told chinadaily.com.cn that Air China's general manager would attend the January conference.

Olympic Air China, the only flight service partner of the 2008 Beijing Olympic Games will be the first charted airliner to promote the Olympic spirit outside the mainland.

The Olympic airliner, decorated with the official Fuwa mascots in honor of the Olympic Games, began its country-wide virgin flight schedule in November. The trek became the focus of the media spotlight, with over 200 media organizations covering the issue in over 6,000 news articles. Some lucky passengers were allowed to take part in this special flight.

Because of Taipei's decades-old ban on direct links to the mainland in trade, transport and postal services, passengers had to transfer in either Macao or Hong Kong when traveling between the two.

In line with a landmark agreement reached between Taiwan and the mainland in June, charter flights have been extended to cover other traditional Chinese holidays besides the Spring Festival including the Qingming Festival, or Tomb-sweeping Day, and Duanwu (Dragon Boat) Festival.