PORT-AU-PRINCE, Haiti: When Haitians realized their National Palace was destroyed, many feared President Rene Preval was dead.
Turns out it was a very near miss.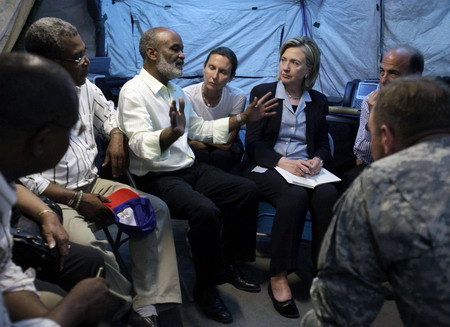 US Secretary of State Hillary Clinton (in blue) meets with Haiti's President Rene Preval (3rd L) to discuss conditions in Haiti following Tuesday's earthquake in Port-au-Prince January 16, 2010. Clinton assured Haiti's quake-ravaged people on Saturday the United States would work with their government to ensure the country emerges "stronger and better" after this week's disaster. [Agencies] 
First Lady Elisabeth Debrosse Preval recounted the first public details of the couple's post-earthquake ordeal on Tuesday, telling reporters she and her husband left the historic Beaux-Arts palace in central Port-au-Prince about an hour before the magnitude-7 quake struck on the afternoon of January 12.
Special Coverage:


 Major Earthquake Hits Haiti
Related readings:


 Obama fails to contact Haiti president after quake


 Quake brings 'unimaginable' devastation: Haiti president


 US, UN send more troops to help in Haiti


 Help Haiti to send a message of hope


Nation mourns Haiti heroes
The couple went to an event at the state university law school, then drove to their private hillside home, and were just walking into the house in the Canape-Vert district when everything started to shake.
"We froze, then took three or four steps back, and the residence just fell before us," Debrosse Preval said.
Stunned, the first couple sat in their yard as government, police and church officials brought news of tragedy from across the capital.
Then Preval, the police chief, his prime minister and interior minister hired motorcycle taxis from off the street, and at 2 a.m. set out touring the damage, the first lady said. The police chief stayed with the group for about four hours, and Debrosse Preval said her husband and the rest of the group stayed out until about 8 a.m.
"While he was doing that, he had no idea where his own kids were, if they were trapped under a building," said Debrosse Preval, an economic adviser who married the president last month.
The president's two daughters, it turned out, were not in the house and were unharmed. The first lady said she lost two close relatives who were like parents to her.
Preval has been increasingly criticized for not taking a more prominent role in the recovery effort. The president has yet to address the nation or publicly tour disaster areas, angering many Haitians.
Speaking at the airport police station that is the government's temporary headquarters, the first lady showed reporters the blurry iPhone pictures she took of her husband the night of the quake. She defended his performance, then called on the Haitian people to focus on rebuilding.
"The ones who are alive, they are lucky to be alive," she said. "Stand up again and move forward."