The horrific disaster brings back bad memories for the people who lived through the Wenchuan earthquake.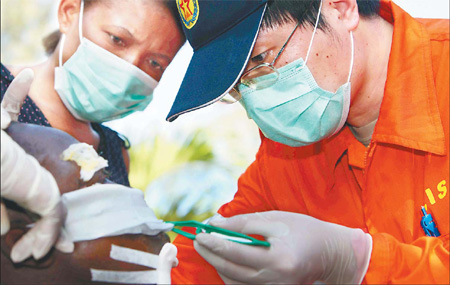 A Chinese doctor, one of many medical workers sent to Haiti following the devastating quake last Tuesday, treats an injured survivor in Port-au-Prince. [Yuan Man/China Daily]
The government is considering evacuating all Chinese nationals from the Haiti disaster zone, Foreign Ministry officials said yesterday.
If local conditions become too difficult and no country can offer shelter to the Chinese living in Haiti, the government is prepared to evacuate all nationals, Wei Wei, director of the ministry's consular department, said.
Apart from the Chinese in Haiti on governmental or other business, Wei said he believed there are about 10 other nationals in Haiti - mainly working for mainland companies or at local Chinese restaurants - as well as about 20 illegal immigrants.
Amid the ongoing relief efforts following the 7.0-magnitude quake, the capital Port-au-Prince has been hit by sporadic violence and looting. However, Wei said that all Chinese nationals there have been safely accommodated.
A chartered flight took 11 staff of ZTE, a Chinese communications technology company, to neighboring Dominican Republic on Friday.
There are also about 30 Taiwan residents in Haiti and, although Wei had no specific details, he said the government would provide help to anyone who requested it. One Taiwan resident has asked for help, he said without elaborating.
About 230 Chinese were in Haiti at the time of the disaster. Most are safe but eight Chinese police officers on a peacekeeping mission died in a collapsed United Nations building. Their bodies were being flown home last night on a chartered flight.
More than 50,000 people have died in the aftermath of the quake, and the final death toll could be as high as 200,000, according to Paul Antoine Bien-Aime, the nation's interior minister.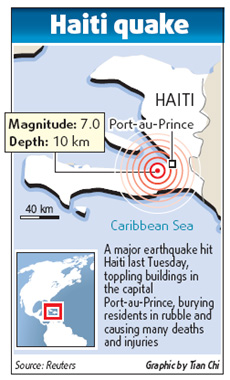 And while the disaster last Tuesday may have happened on the other side of the world, the shock has been felt deeply in China, especially in Sichuan province, where residents are still recovering from the 8-magnitude quake that struck there on May 12, 2008, and killed more than 69,000.
"Hearing about this disaster in Haiti, although it is far away, it is as if the cracks beneath our feet have opened up again. It has all come rushing back for us," said Li Yong, a farmer in Beichuan, the county worst hit by the 2008 quake.
The horrific disaster brings back bad memories for the people who lived through the Wenchuan earthquake. Huang Zhiling in Chengdu, Guo Anfei in Kunming and Wang Shanshan in Beijing report
Li Yong's family lost their home in the 2008 disaster and now live in a shabby temporary home built with wooden boards. His 18-year-old son, Li Anqiang, also had both legs amputated after being pulled from the rubble of the collapsed Beichuan Middle School. Many of his classmates were killed.
Apart from what they make selling potatoes, the family survives on a monthly government subsidy of just 800 yuan ($120), which is paid to them to help care for Li Anqiang. But despite the family's struggles, Li Yong said they are desperate to help those left in similar situations by the 7.3-magnitude quake in Haiti.
"We heard about the deaths through our neighbors. The people in Haiti are much poorer than we are, and we really want to help them. I hope that we can do something for them," he said. "Our life is good. After what we have gone through, we really feel sorry for the people in Haiti."
Many in Sichuan, particularly children, are still in too much trauma to hear the word "earthquake", said Wang Zhihang, 53, a volunteer who tours schools in the area offering emotional support to victims.
"Those children who have been able to face the reality of the disaster in Haiti have shown real concern for the victims. Most have already joined in with fundraising events at schools across the province," said Wang, who is based in the provincial capital, Chengdu.
The people in Sichuan understand full well the kind of relief operation that is now under way in Haiti. For those who were close to the epicenter in 2008, such as 20-year-old student Wang Li, they will also be able to understand the true terror of being trapped for hours by rubble.
Wang was attending class at her middle school in Xiaode when the disaster struck - and was on the fourth floor when the building collapsed.
"The disaster in Haiti reminds me of the hours I was trapped in the dark. I was there for one day and one night," she said. "I passed out immediately when the building fell, but when I regained consciousness I could see I was buried under rock with two classmates. I knew one of them was dead. I called her name but she didn't respond. I reached out and checked her pulse, but her heart had already stopped beating."
Wang lost her left leg in the disaster and had to take the national college entrance exam in a hospital ward during her recovery. She now studies at Chongqing Electronic and Engineering College.
"As I am a student, I cannot help out the Haitians financially but I feel their agony. All I can do is to pray for them," she said.
Wei Min, 18, also lost a leg in the Sichuan earthquake. She was so moved by the kindness shown by strangers during her treatment in Chongqing, she has set her heart on a career in social work as a way to repay some of the compassion she experienced.
"With international aid, I believe Haiti will recover, although the process of recovering from an earthquake is lengthy," said Wei, who is from a poor farming family in Leigu, Beichuan county.