Liu: China, US can be 'driver' of world peace
Updated: 2015-06-25 14:14
By DONG LESHUO and HUA SHENGDUN in Washington (China Daily USA)
Comments
Print
Mail
Large
Medium
Small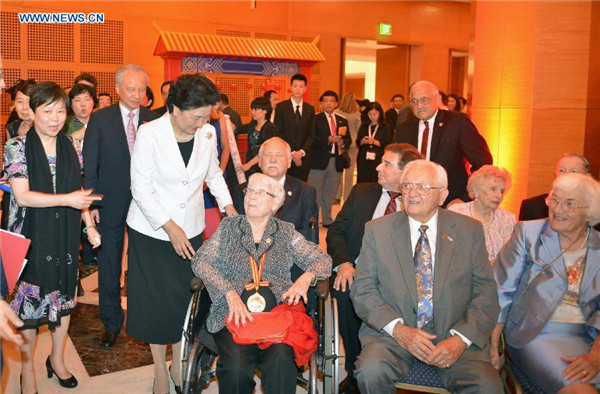 Chinese Vice-Premier Liu Yandong (2nd L, front) attends a photo exhibition on China-US cooperation in World War II named "For Justice and Peace" in the Chinese embassy in Washington DC, the United States, June 24, 2015. [Photo/Xinhua]
"Seventy years ago, for justice and peace, Chinese and Americans formed cross-Pacific alliance," Li said. "Today, 70 years later, we gather here for the same reason, justice and peace, and for the prosperity of the whole world."
"Today China-US relations (are) at a critical stage," Liu said. "We need to build on past achievements and see further progress. What has happened has proved that a healthy, stable, and growing China-US relationship not only serves the fundamental interest of the two peoples, but is also crucial to the peace, stability and prosperity of Asia-Pacific and the world."
Liu told Anna Chennault, widow of the Flying Tigers' founder Clair Lee Chennault, that she was pleased to be at such a meaningful event. She said she was glad that China and the United States have been cooperating for such a long time, and believes there will be more collaboration in the future.
"These photos moved me deeply," Chennault said. "They remind me of the long history of collaboration between China and the US."
"As President Xi pointed out, everything that will help inject positive energy to the China-US relationship, we need to go for it. Otherwise, refrain," Liu said.
"Even though sometimes US and China have their differences, we do have a long relationship working together, and there is a foundation as result that we can work from," said Congressman Rick Larsen, one of the co-chairs of the US-China Working Group.
Liu Jingyang in Washington contributed to the story.