China, US agree to deepen cooperation on ocean protection
Updated: 2015-06-25 10:28
(Xinhua)
Comments
Print
Mail
Large
Medium
Small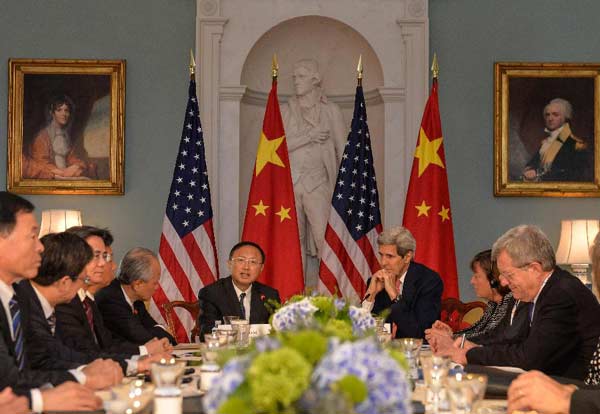 Chinese State Councilor Yang Jiechi (L, back) and US Secretary of State John Kerry (R, back) co-chair a special session on ocean protection under the framework of the seventh China-US Strategic and Economic Dialogue (S&ED) in Washington D.C., the United States, on June 24, 2015. [Photo/Xinhua]
WASHINGTON -- China and the United States on Wednesday praised the huge progress achieved in their cooperation on ocean protection, while agreeing to make new efforts to explore opportunities of deepening such cooperation.
The two countries held a special session on ocean protection under the framework of the seventh China-US Strategic and Economic Dialogue (S&ED) which started on Tuesday. The meeting was co-chaired by Chinese State Councilor Yang Jiechi and US Secretary of State John Kerry.
Yang lauded the positive contributions by the two great ocean powers to promoting maritime research, development, maintenance and protection, citing the increased maritime policy exchange and practical cooperation, and the fruitful cooperation in the areas of oceanic scientific research, maritime enforcement, maritime security, maritime search and rescue, and sustainable use of maritime resources.
Yang expressed the hope that China and the US will build on the progress achieved to turn ocean protection into a new area of growing bilateral cooperation.
He called on the two sides to create more channels of communication and increase frequency of dialogues in order to jointly explore ways of conducting practical cooperation in the spheres of maritime ecological civilization construction, oceanic environmental monitoring and protection of fishery resources through sharing experiences and complimenting each other with own advantages.
He also suggested the two sides join hands in building a peaceful and safe maritime environment, by increasing the contacts between their maritime enforcement agencies, and elevating the level of cooperation in cracking down on illegal drift net fishing on high seas, conducting maritime humanitary search and rescue, and managing transportation of hazardous materials.
The two countries, he added, also need to jointly maintain a fair and reasonable international maritime order, and promote prosperity and sustainable development of ocean, through practical cooperation within the framework of international institutions, such as the United Nations and the Asia-Pacific Economic Cooperation.
For his part, Kerry said the US and China, as the two largest economies and maritime powers that lead maritime scientific research, should cooperate to tackle the tough challenges in ocean protection and its sustainable development. They should play the leading role in ocean protection through cooperation, which benefits not only both countries but also the world as a whole.
The US is willing to work together with China to expand cooperation in areas of ocean protection and promoting maritime sustainable development, he pledged.