Liu urges Texas to play bigger role to advance China-US relations
Updated: 2015-06-21 14:46
By Chang Jun and May Zhou in Houston (China Daily USA)
Comments
Print
Mail
Large
Medium
Small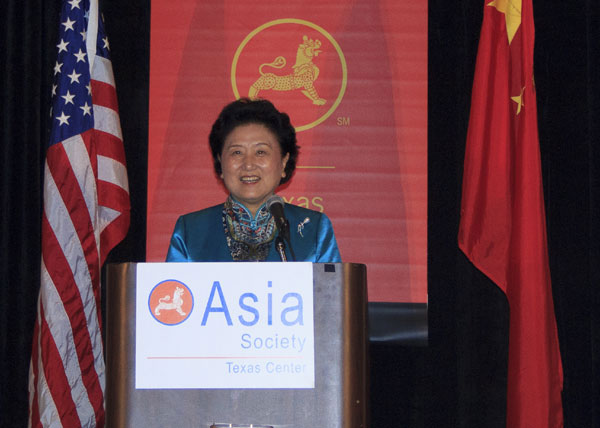 Chinese Vice-Premier Liu Yandong speaks at the welcome dinner party hosted by Asia Society Texas Center in Houston on June 20, emphasizing on improving the ties between China and US in culture, education, economy, and people-to-people exchanges. [Photo by May Zhou/China Daily USA]
Chinese Vice-Premier Liu Yandong, in Houston Saturday on the second stop of her US visit, urged the state of Texas to play a bigger role in advancing the China-US relationship.
Liu is in the US for the 6th China-US High-Level Consultation on People-to-People Exchange (CPE), which will be officially kicked off by Liu and US Secretary of State John Kerry in Washington on Tuesday. CPE provides a high-level annual forum for government and private-sector representatives on both sides to discuss cooperation and exchanges in a broad, strategic manner.
She and her delegation were warmly received by federal and state legislators and local officials at a banquet for about 300 hosted by the Asia Society Texas Center that night. Former President George Bush wrote a congratulation letter that was read at the gathering.
China values Houston for many reasons, Liu said. It was one of the stops made by the late Chinese leader Deng Xiaoping during his historic US visit in 1978, just after the two countries normalized their bilateral relationship. In 2002, former Chinese President Jiang Zemin paid a visit to Houston, which is Bush's hometown. The former president made great efforts at developing the China-US relationship; the Chinese government chose Houston as its first consulate general in the US.
Besides being well-known for its economic power, energy and petroleum industries and space research, Houston gained popularity among Chinese basketball fans because star player Yao Ming lived there for 10 years when he played for the Houston Rockets, Liu said.
Houston plays an important role in the China-US relationship, Liu said. To date, there are roughly 100 Houston companies operating in China and nearly 800 of the city's companies doing business with China. About 30 Chinese companies have invested in the Houston market.
In recent years, we have seen progress made in trade, investment and People-to-People exchanges, the vice premier said.
China is Texas' second largest importer and the fourth largest export destination, Texas' exports to China rank third among all the 50 states and trade volume with China accounts for 10 percent of the US national total. "The state of Texas serves as one of the good examples in terms of a robust bilateral relationship between China and the southern regions in the US," Liu said.
Houston continues to share extensive ties with China on various fronts, said Houston Mayor Pro-tem,Ed Gonzalez.
"We have had a Sister City relationship with Shenzhen since 1986, and early this month we signed a Sister City relationship with Shanghai," Gonzalez said.
He added that his city ardently promotes People-to-People connections and carries out exchanges in trade activities, tourism promotions, municipal delegation visits and cultural programs.
"During my trip to the US, from Pittburg in the Northeast to Houston in the South, everywhere I went I feel the enthusiasm of the American people and their longing for understanding more of China," Liu said at the banquet, adding that the People-to-People Exchange, together with mutual political trust and economic cooperation, will be three pillars to underpin the US-China relationship.
Since CPE was initiated in 2010, about 300 projects have been implemented between China and the US, including the 100,000 Strong. That program aimed to send100,000 young Americans to study in China and "the goal has been met", Liu said.
Now there are around 460,000 Chinese students studying the US. On a daily basis, about12,000 people travel across the Pacific and every 17 minutes there is one flight taking off either in China or the US, headed for the other country.
"In the past six years, the two sides have made many progresses in exchanges in education, sports, science and technology, culture, women and youth areas," Liu said, adding the US and China are pushing forward for more dynamic cooperation and exchanges in education and public health sectors in the upcoming dialogues.
Liu vowed to work closely with Kerry. They will explore how to further strengthen cooperation between the two countries to lay a solid foundation in both countries for a new type of major country relationship. They also will work to make sure the upcoming State visit by President Xi Jinping to the US in September is a great success.