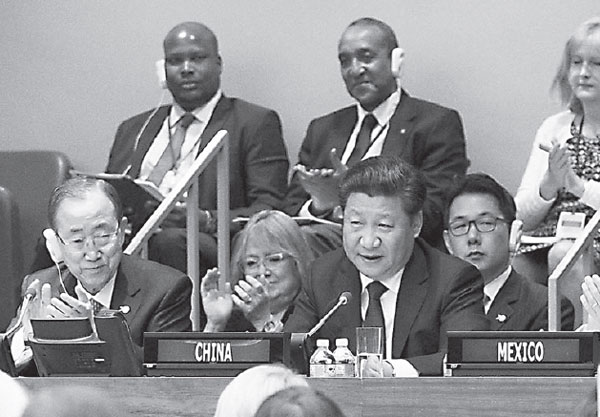 President Xi Jinping delivers a speech at the Global Leaders' Meeting on Gender Equality and Women's Empowerment at the United Nations headquarters in New York on Sunday. Huang Jingwen / Xinhua
A senior official from President Xi Jinping's delegation in the United States said that it was up to the Chinese people, especially women, to judge the development of women's rights in the country.
"Some individuals or entities take groundless views, or show a lack of understanding," said Li Junhua, director-general of Chinese Foreign Ministry's Department of International Organizations and Conferences.
Li made the remarks in New York in response to claims made about women's rights in China by some people, including Hillary Clinton, who posted her criticism online.
Hong Lei, spokesman for the Foreign Ministry, also defended women's rights in China at a news conference in Beijing on Monday, saying that the country has made remarkable achievements in ensuring equal treatment between men and women.
"The Chinese government has taken solid steps to promote the empowerment of women and has contributed to the development of global women's rights.
"The summit co-hosted by China and the United Nations is a landmark success of historic significance, at which leaders from about 80 countries made commitments to promote women's empowerment," Hong said.
President Xi made pledges on gender equality and women's empowerment at a high-level summit - Global Leaders' Meeting on Gender Equality and Women's Empowerment - at the UN headquarters on Sunday.
Xi said the pursuit of gender equality is a "great cause", as "a review of history shows that without women's liberation and progress, the liberation and progress of humankind would not be attainable".
He later raised a four-point proposal on promoting gender equality and women's all-around development worldwide, such as striving for women's development, protecting women's rights and interests, ensuring sufficient basic medical services, and developing vocational and lifelong education for women.
Hong said Xi's pledges reflect the great importance that the Chinese government attaches to the cause of women's rights and pointed out that his pledges have won global support.
Xinhua contributed to this story.
zhaoyinan@chinadaily.com.cn