Peng Liyuan, the first lady of China and UNESCO Special Envoy for the Advancement of Girls' and Women's Education, delivered a speech in English at the United Nations on Sept 26 for a high-level event marking the inclusion of education as a transformative stand-alone goal in the new 2030 Agenda for Sustainable Development.
At the Global Education First Initiative event, Peng recalled her father's story as the principal of a village school and said education was very close to her heart.
"My father grew up in a very small village in China," she said. "In those days not many villagers could read, so my father opened a large school to teach them. With his help many people learned to write their names and read newspapers for the first time and many women were able to teach their children how to read."
She said she is the beneficiary of China's progress in education and as a singer followed in her father's footsteps to be a professor of music.
"Many years ago my father made a small difference in his village. Together we can make a big difference in the world," she said.
She talked about China's Spring Bud Education program, which has helped more than 3 million girls go to back to school.
"I was once asked about my Chinese dream. I said I hoped all children, especially girls, can have access to a good education. This is my Chinese dream. I believe one day education first will no longer be a dream but a reality enjoyed by many young women on this planet."
Achieving quality education for all is Goal 4 of the 17 Sustainable Development Goals (SDG) that make up the new agenda world leaders adopted on Friday with the aim of ending extreme poverty, fighting inequality and tackling climate change over the next 15 years.
UN Secretary-General Ban Ki-moon sent a message to the event, which was delivered by his wife, Ban Soon-taek. SDG 4, he said, aims to ensure inclusive and equitable quality education and promote lifelong learning opportunities for all people.
"The Global Education First Initiative can help us reach this goal and will unlock progress across the new agenda," he said, referring to the initiative he launched in 2012 to put every child in school, improve the quality of learning and foster global citizenship.
On the same day, Peng, as a World Health Organization goodwill ambassador in the fight against tuberculosis and HIV, also attended Every Woman Every Child Initiative high-level event opening ceremony.
At the event, Ban announced the launch of The Global Strategy for Women's, Children's and Adolescents' Health, spanning five years and with more than $25 billion in initial commitments to help end preventable deaths of women, children and adolescents, and ensure their health and well-being.
Peng showed China's support and commitments and said the care for the health of women, children and adolescents is the most important investment for humanity's future.
She added that China ran promotion events at universities and colleges in China to raise awareness of HIV and AIDS among young people and has also helped HIV and AIDS orphans with free medical care and education opportunities, which is the best psychological anti-HIV vaccine for them, she said.
lijing2009@chinadaily.com.cn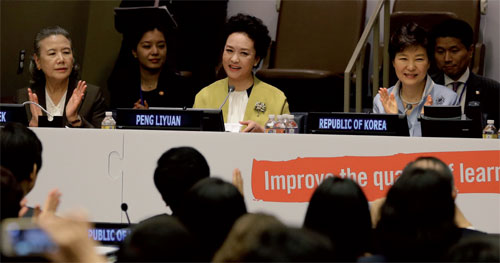 Yoo Soon-taek (left), wife of United Nations Secretary-General Ban Ki-moon, China's first lady Peng Liyuan (center) and South Korean President Park Geun-hye participate in the Education First for Sustainable Development conference on Saturday at UN headquarters in New York. Mary Altaffer / AP
(China Daily USA 09/27/2015 page3)