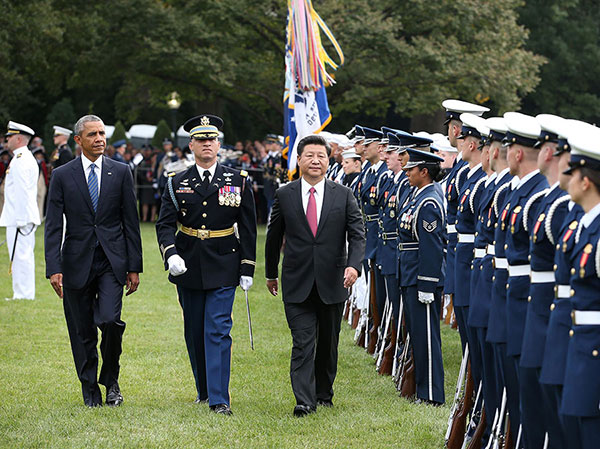 Chinese President Xi Jinping (R) is welcomed by US President Barack Obama (L) at the South Lawn of the White House in Washington DC, the United States, Sept 25, 2015. Xi arrived in Washington, the second stop of his first state visit to the United States, on Thursday after a busy two-and-a-half-day stay in West Coast hub Seattle. [Photo/Xinhua]
The first official state visit to the United States by President Xi Jinping has been applauded as a great success, despite skepticism expressed by some before the trip.
Former New York City Mayor Michael Bloomberg said he sincerely congratulates President Barack Obama and President Xi for their progress in multiple areas of economic cooperation, especially the pledge by China and the US to look forward to continuing to discuss mechanisms to facilitate Chinese currency RMB's trading and clearing in the US.
"This will greatly elevate the bilateral relationship, boost bilateral trade, strengthen the competitiveness of US companies and further push forward the US financial industry," Bloomberg, founder of Bloomberg LP, said in a statement on Friday.
Bloomberg noted that while there is much to do, this is an important step taken by the two sides.
Bloomberg was one of 94 CEOs who wrote to Obama and Xi on Sept 15 urging them to prioritize discussion of the Bilateral Investment Treaty (BIT) during their summit in Washington. The letter was sent to the two presidents by the Paulson Institute and the US-China Business Council.
The summit in Washington has produced consensus on a wide range of issues but the China-US Joint Presidential Statement on Climate Change, announced on Friday, has drawn the most attention. In that agreement, both leaders have pledged their firm commitment, as well concrete actions to fight climate change.
Former US Treasury Secretary Henry Paulson praised China's announcement during Xi's visit. "I am pleased with China's announcements today, which demonstrate the country's serious commitment to addressing climate change, especially through domestic policy changes and actions," Paulson, now chairman of the Paulson Institute which works on China-US environmental and economic relations, said in a statement on Friday.
"Specifically, China's promise to commit $2 billion to help developing countries cope with climate impacts that are already being felt around the world aligns with US interests and actions," Paulson said.
Andrew Steer, president and CEO of World Resources Institute, said on Friday that Obama and Xi are demonstrating courageous leadership on climate change. Both countries are moving forward with on-the-ground action to hasten the transition to a low-carbon economy. They're also laying the cornerstone for an ambitious climate agreement in Paris.
"China has repeatedly shown that it's serious about reining in its emissions. By committing at the highest level to a national carbon trading program, China is making its intentions clear to businesses and investors about its shift to a low-carbon economy," Steer said in a statement.
"These two major countries have found common ground on the three most critical elements of a strong agreement in Paris: a long-term goal for the transition to a low-carbon economy this century, creation of a process that builds greater ambition over time and a transparent system that will instill confidence that countries will follow-through on their commitments," Steer wrote.