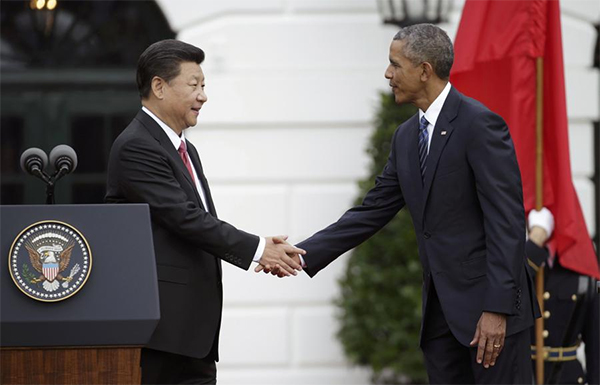 US President Barack Obama (R) shakes hands with Chinese President Xi during a welcoming ceremony for the Chinese leader at the White House for an official State Visit in Washington September 25, 2015. [Photo/Agencies]
NEW YORK - Chinese President Xi Jinping arrived in New York early Saturday morning for upcoming United Nation summits marking the 70th anniversary of the establishment of the world body at the UN headquarters.
During his three-day stay, Xi will take part in a series of UN summits covering a wide range of topics, including post-2015 development agenda, women's empowerment, and South-South Cooperation, among others.
The Chinese leader will also speak for the first time at the annual UN General Assembly (UNGA) high-level debate, expounding on China's views about how to promote peace and development and address major challenges in today's world.
He is also expected to have bilateral meetings with foreign leaders on the sidelines of the UN events.
The president, who came at the invitation of UN Secretary-General Ban Ki-moon, arrived here from Washington DC immediately after concluding his first state visit to the United States.
During the tightly-scheduled four-day visit that started in Seattle, Washington state Tuesday, Xi held talks with US President Barack Obama at the White House, toured major corporate headquarters and local schools, and spoke to both political figures and ordinary people from all walks of life.