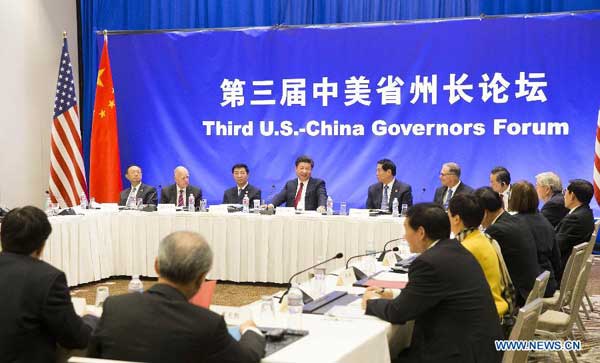 President Xi Jinping (4th L, rear) speaks during the Third China-US Governors Forum in Seattle, the United States, Sept 22, 2015. [Photo/Xinhua]
SEATTLE - Chinese President Xi Jinping made an address on Tuesday at the China-US Governors' Forum.
The following is the translated version of the full text of his address:
Address by H.E. Xi Jinping
President of the People's Republic of China
At the China-US Governors' Forum
Seattle, 22 September 2015
Governor Jerry Brown of California,
Governor Jay Inslee of Washington,
Governor Terry Branstad of Iowa,
Governor Rick Snyder of Michigan,
Governor Kate Brown of Oregon,
Leaders of provinces and states,
Ladies and Gentlemen,
Dear Friends,
It gives me great pleasure to attend the third China-US Governors' Forum. Let me first of all extend warm congratulations on the successful opening of the forum and express my deep appreciation to leaders of provinces and states for your hard work over the years to promote China-US relations.
Just now, I listened attentively to your remarks. You all made very good points. Every time I interact with local leaders of China and the United States, I get much food for thought. During my visit to the United States in 2012, I attended a meeting between Chinese and American governors in Los Angeles. In 2013, I met with delegates of the second Chinese-US Governors' Forum in Beijing. I still remember our conversations on sub-national cooperation. And your ideas on how to grow the relations between the two countries were still fresh in my memory.
Having worked for many years in local governments myself, I fully understand how challenging it is to be local leaders, as the job carries immense responsibilities. I am also deeply aware of the importance of sub-national cooperation to the growth of overall relations between countries. State-to-state relations ultimately rely on the support of the people and serve the people. Provinces and states are closest to the people. Without successful cooperation at the sub-national level, it would be very difficult to achieve practical results for cooperation at the national level. That is why I place great importance on China-US sub-national cooperation.
Over the past 30 plus years, the growth of our relations has been achieved with support of local governments and their people. Going forward, it will continue to draw strength from and deliver benefits to them.
The new momentum of dynamic growth of sub-national exchanges and cooperation between our two countries has been truly encouraging. Thirty-one Chinese provinces/regions/cities have established 43 sister province/state relations and 200 sister-city relations with 50 American states. Over the past 10 years, 42 American states have achieved triple-digit increases in their export to China. According to statistics of the American side, Chinese investment to the US over the past five years has expanded by over eight billion dollars on average every year and the pace is still getting faster. For the five American states represented here, China is among your top four export markets and a major source of international students. Among the six Chinese provinces and cities around the table, some have the US as their largest trading partner, some have attracted tens of hundreds of American businesses, and some registered a 40 percent increase in their trade with the US in one single year. Exchanges and cooperations as such have truly benefited people of the two countries.