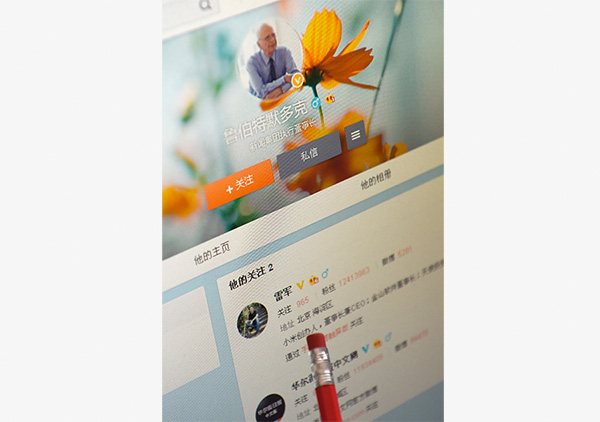 Rupert Murdoch, chairman of News Corp, has registered an account on Weibo, the Chinese Facebook-like social media platform, to interact with Chinese netizens. [Photo/China Daily]
News Corp is believed to be exploring possible business opportunities in the Chinese technology market, indicating that the diversified media and information services company is planning to consolidate its presence in the country, reports published on social media during the weekend said.
Smartphone manufacturer Xiaomi Corp posted in its official Weibo account several pictures of News Corp chairman and media tycoon Rupert Murdoch visiting its headquarters in Beijing.
The pictures posted by the company showed an active and engaging Murdoch trying out several Xiaomi products such as the Mi phone, Mi TV and the fitness tracker Mi Band.
Murdoch praised Xiaomi's products, highlighting their beautiful design, according to the microblog post.
Another picture showed Murdoch with Xiaomi executives at the company headquarters in Beijing, triggering market speculation over a potential tie-up between Xiaomi and the media conglomerate.
The media powerhouse, owner of The Wall Street Journal and The Times newspapers, could be examining options to distribute its content, which ranges from news and information media to educational materials, across digital platforms in China, suggested industry experts.
"News Corp's plan to cooperate or partner with China's number one smartphone brand is a good move for both companies to symbiotically work together to monetize and distribute content using Xiaomi's platform," said Neil Shah, research director at market research firm Counterpoint Technology Market Research.
"This also gives a foot-in-the-door for News Corp in China and to jointly develop digital content with Xiaomi for Chinese consumers," said Shah.
This is not the first time that Chinese social media has provided hints of a potential partnership between News Corp and a Chinese company. In January, a tech executive at Chinese online video operator LeTV Holdings Ltd posted a photo on Weibo of himself meeting with Murdoch in China.
The media mogul generated his own buzz in the Chinese cyber realm by announcing his trip to China on his Weibo account and the meeting with Chinese President Xi Jinping.