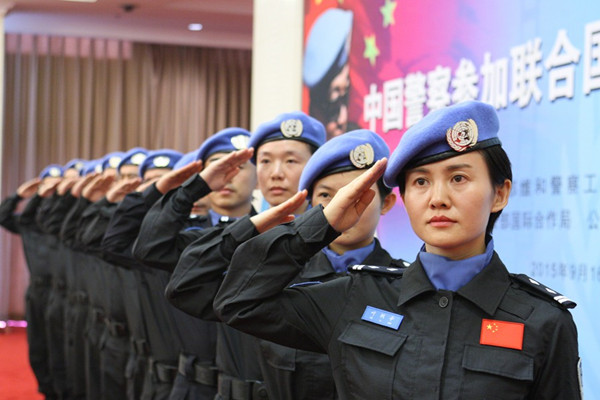 Ye Lixin (front) is among the 12 members of the 14th group of Chinese peacekeeping police officers being sent as part of the United Nations peacekeeping mission in Liberia. The group, which will depart on Thursday for Liberia, held a ceremony in Beijing on Wednesday. [Photo by Wang Zhuangfei/ China Daily]
China will offer more technical experts and training to police officers in countries where needed to help fight cross-border crimes, in addition to its traditional UN peacekeeping role of maintaining security and social order, said a senior official from the Ministry of Public Security.
China, the largest contributor of police personnel to the United Nations peacekeeping mission, will deploy more armed police forces to countries in line with UN's requests to "deal with riots and mass incidents, as well as to help with security in large-scale activities, cybersecurity and counterterrorism actions", Liao Jinrong, director of the ministry's International Cooperation Bureau, told China Daily.
In addition, the country plans to send more technical experts and instructors to facilitate training of foreign police officers. "To enhance peacekeeping efforts, we will offer criminal investigation technology and combat tactics for them to improve their operational capabilities," Liao said.
Currently, unrest and conflicts occur in some countries and regions due to sectarian divisions, piracy and social tension. It's more than necessary to send more peacekeeping police to participate in maintaining security and stability in such places, according to the ministry.
Chinese peacekeeping police have "assumed great responsibilities in helping to handle local riots, seizing illegal weapons, relocating armed militants, fighting violent and terrorist crimes, as well as conducting armed patrols in mission areas," Liao said.
According to the ministry, China has sent 2,290 peacekeeping police to nine UN mission countries and regions since 2000, including Haiti, Kosovo, Afghanistan, Liberia, Sudan and South Sudan. Currently, 161 Chinese police are participating in peacekeeping missions in Liberia, South Sudan and Cyprus.
In the past 15 years, Chinese peacekeeping police have helped handle 700 large riots and illegal demonstrations, and assisted in capturing 2,436 suspects and rescuing more than 390 hostages. They also have helped confiscate 9,500 weapons and sent 18,000 refugees back to their homeland.
"China will play a more active role in supplying special training, expertise, criminal investigation techniques and financial support to the countries in need," said Wang Xiaochen, senior official from the International Cooperation Bureau.