China commits $1bn to Greater Mekong Subregion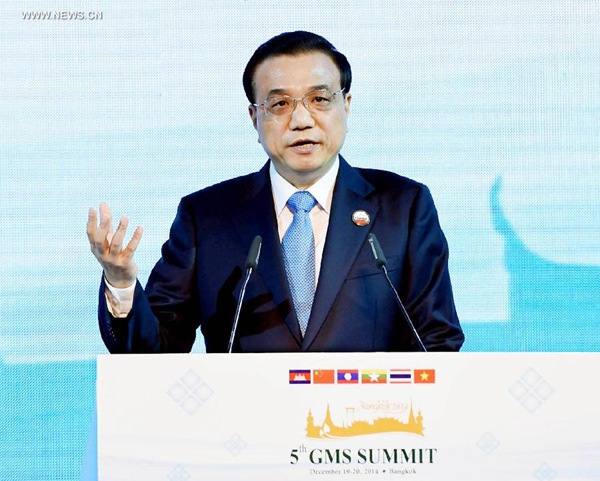 Chinese Premier Li Keqiang delivers a speech at the opening ceremony of the fifth summit of the Greater Mekong Subregion (GMS) Economic Cooperation in Bangkok, Thailand, Dec 20, 2014. [Photo/Xinhua]
China will contribute $1 billion to the Greater Mekong Subregion's connectivity projects, likely to improve the region's economic growth, create more local jobs and prove an important part of the process of regional integration, said Premier Li Keqiang.
Li made his remarks at the fifth GMS Summit in Bangkok on Saturday, addressing cooperation between China and other GMS members.
Founded in 1992, GMS comprisies six countries, Cambodia, China, Laos, Myanmar, Thailand, and Vietnam, aiming to improve regional infrastructure and enhance trade, investment and economic growth.
"All GMS members are in a crucial stage of development. Infrastructure construction projects can be a new driven force of regional economic development, as well as a key part of realizing the regional integration in GMS. The ideas of the Silk Road Economic Belt and the 21st Century Maritime Silk Road, promoted by China, bring new opportunities for deepening cooperation in the subregion," he said.
Connectivity has been considered by all member countries as one of the priorities in regional development. Since the fourth summit in 2011, some notable achievements have been made in infrastructure connectivity, including signing a Memorandum of Understanding for the establishment of the Greater Mekong Railway Association.
"This is a positive step toward the promotion of railways as an efficient and clean mode of transport," said the Joint Summit Declaration released on Saturday.
The two-day summit also approved a Regional Investment Framework Implementation Plan (2014-2018), identifying 92 investment and technical assistance projects costing an estimated $30 billion, with transport sector projects accounting for 90 percent of the estimated cost.
China and Thailand also signed a MoU on railway cooperation on Friday, which allows China to invest in Thailand's first two dual-track standard-gauge railways with a total length of more than 800 kilometers.
Li said he hopes that the high-caliber, high-quality and cost-effective railway lines would benefit neighboring countries if extended to other places in the region.
Speaking of water usage in the region, China will invest $16.4 million to dredge waterways along the Mekong River, said Li.
"China always insists with the principle of paying equal attention to protection and development, and would love to share the hydrological resources and enhance the cooperation on preventing disasters," he added.
China is a key trading partner for GMS countries. In 2013, trade between China and the other five members reached $153.4 billion, and the direct investment from China to the rest were up to $2.3billion.
As much as a $10 billion special loan has been set up by the China Development Bank for the Association of Southeast Asian Nations' infrastructure development. Li said the loan also supports Chinese companies opening factories and developing industrial chains within GMS.
China will provide $482 million for the other five countries' poverty alleviation programs, and offer 3,000 training opportunities for professionals in agricultural and healthy sectors in the next three years to the GMS countries.